MUHC oncology nursing shines brightly at the Canadian Association of Nurses in Oncology conference
The Canadian Association of Nurses in Oncology (CANO) conference is an opportunity for oncology nurses to connect with their peers and improve their professional knowledge in the areas of oncology nursing, patient engagement and interdisciplinary practice. This year's conference, held in Niagara Falls last October, was also an opportunity for the McGill University Health Centre (MUHC) to show off its raw talent. 
Nurses from the MUHC's Cancer Care Mission, Surgical Mission and the Research Institute of the MUHC gave presentations on a variety of subjects. 
Giselle Wilson, RN, BScN, program coordinator, Immune Effector Cell Therapy and Stem Cell Transplant - The Gilead and Kite Symposium; role of Nurses in a patient's path to CarT therapy and post-treatment care with aggressive lymphoma 
Chelsea Ilagan, RN, BNI, MSc (A) Lean Six Sigma Green Belt, senior advisor, implementation of trajectories by tumor site - Network leadership: lessons learned 
Luisa Luciani Castiglia, N, MScA, CON(C), advanced practice nurse in oncology and  Joanne Power, RN, MScN, CON(C), advanced practice nurse in gynecology-oncology and gynecology - Standardizing Pregnancy testing and contraceptive counselling practices for patients of reproductive potential undergoing anticancer therapies 
Joelle Malek, RN, BScN, nurse manager, DOvEEgene Project, RI-MUHC - The nursing role in the DOvEEgene study: An opportunity for future innovations to improve timely access to care for women with symptoms of gynecological diseases 
"They were such high-quality presentations from our MUHC nurses! I am very proud of the amazing work that has been achieved," says Christine Bouchard, associate director of Nursing for the MUHC's Cancer Care Mission. "This is a testimony of the high competencies of the MUHC nurses." 
On top of everything, Joanne Power, advanced practice nurse in gynecology-oncology and gynecology, received the 2023 Boehringer Ingelheim Oncology Nurse of the Year Award. 
This award recognizes a CANO nurse who has demonstrated the highest level of nursing excellence and leadership and contributed to advancing oncology nursing and/or health system transformation during the past year. Joanne was awarded $5,000 to put towards further education and professional development. 
"Individually, these nurses proved themselves to be at the top of their field," says Christine Bouchard. "Together, they reminded the rest of the country of the high calibre of oncology nursing that takes place every day at the MUHC. I thank and congratulate them all for their hard work!"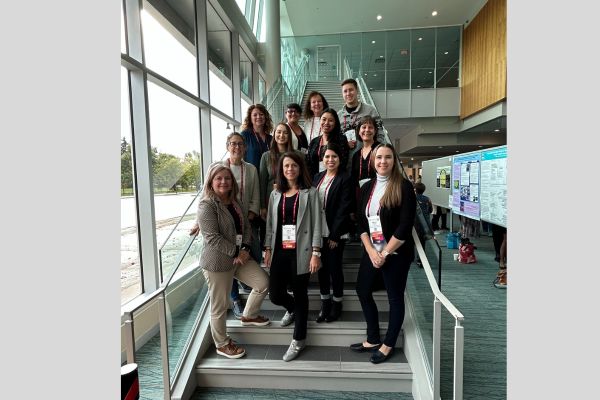 Group picture (top to bottom, left to right) 
a. Selda Elmas, Marika Swidzinski, Alexis Parent 
b. Joanne Power, Chelsea Ilagan 
c. Andréanne Chevrette, Lara Perry, Luisa Luciani Castiglia 
d. Christine Bouchard, Joëlle Malek, Cindy Marin Berajano et Giselle Wilson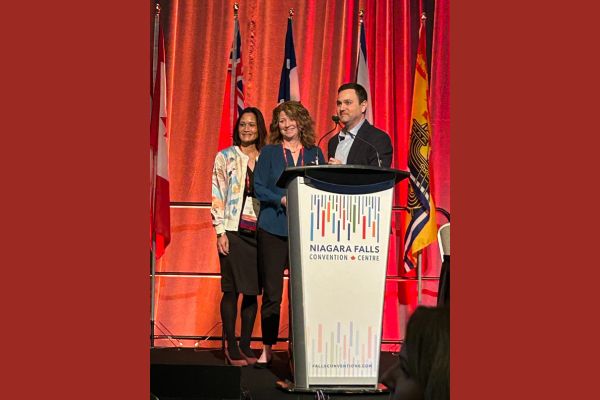 Joanne Power receiving her award.