MGH Auxiliary Award of Excellence Winning Team
Dear Colleagues,
I am pleased to announce that a multidisciplinary, multi-departmental traumatic brain injury (TBI) team, led by Michel Abouassaly, TBI Program Manager, Adult Neurotrauma Program, is the recipient of a $100,000 grant for its MGH-TBI-Toolbox proposal. The competition for this MGH Auxiliary Award of Excellence was launched earlier this fall under the auspices of the 200th Anniversary celebrations of the Montreal General Hospital (MGH) of the McGill University Health Centre (MUHC).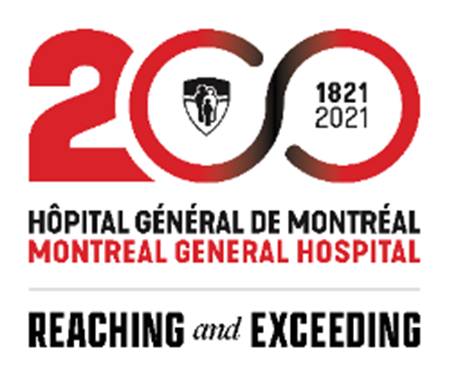 The MGH-TBI-Toolbox aims to be a free, bilingual mobile application. The project team will use the grant money from this award to fund its first phase, namely the development of educational content informed by discussions amongst care teams, patients, family members, caregivers, and others on how to best meet the needs and expectations of TBI patients and their family members.
Let's remember that the MGH is an accredited tertiary trauma centre that provides specialized and ultra-specialized care to over 10,000 trauma patients per year, many of whom have suffered a physically and emotionally trying TBI. It is therefore most satisfying to see this project get the necessary philanthropic support to move forward. After all, better multilateral communication between patients, their family members and teams at the MGH will promote patient health and safety, as well as improve the experience and recovery of patients.
The success of any project often hinges on people's engagement. As such, in addition to the creative and dedicated project team's members, I would like to recognize and thank the following individuals:
Team Leader: Michel Abouassaly, TBI Program Manager, Adult Neurotrauma Program;


Patient Partner: Johanne Martin, whose insights from her own experience with a TBI will be invaluable;


Sponsors: Judith Marcoux, Medical Director, Adult Neurotrauma Program, and Dr. Ewa Sidorowicz, Director of Professional Services;


Clinical Champions: Maude Laguë-Beauvais, Neuropsychologist, Mental Health Mission, and Laura Patch, TBI Social Worker, Multidisciplinary Services Directorate;


Award Selection Committee and Support Staff: Michael Churchill-Smith, Member of the Steering Committee for the MGH 200th Anniversary Celebrations; Marian Lennon, Member of the MGH Auxiliary; Lorna Anne del Castillo, Member of the MGH Auxiliary; Patricia Lefebvre, MUHC Associate Director General (ADG), Support, Administration and Performance; Pat Kerr, MUHC Users' Committee representative; Mario di Carlo, MUHC Patient Partner; Louise-Anna Regnaud, Patient Engagement Coordinator; Dr. Olivier Court, Chair of the Council of Physicians, Dentists and Pharmacists, Claudiane Poisson, President of the Council of Nurses; Valentine Weber, President of the Multidisciplinary Council, Brenda Levine, Vice-President, Council of Non-clinical Personnel; Keith Woolrich, Director of Quality, Evaluation, Performance and Ethics; Axel Van Leeuw, Director of Information Services; and Claire Chouinard, Administrative Assistant to the ADG; and


Nicole Bianco, President, MGH Auxiliary, and all its Members for helping the MUHC implement improvements in the delivery of patient care and standards of practice at the MGH with this special grant.
Pierre Gfeller, MD, CM, MBA, President and Executive Director, MUHC