Joanna gets a new kidney... and a new friend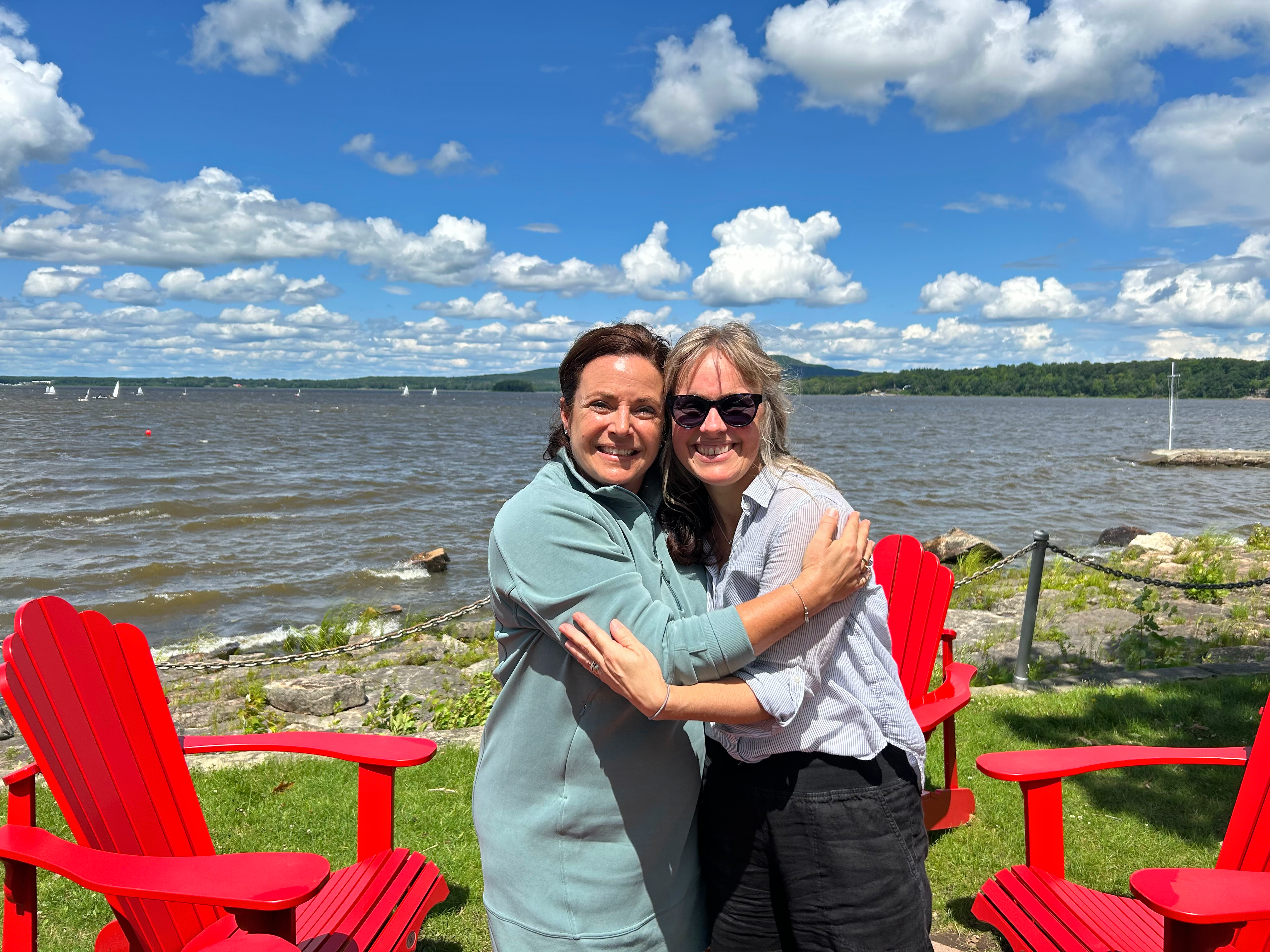 A powerful story of friendship has emerged within the walls of the McGill University Health Centre (MUHC), one that reminds us not to hold back on generous acts towards strangers. At the beginning of 2023, Annie Devost (left) selflessly volunteered to donate her kidney. The recipient was Joanna Love (right), but the two women didn't know each other. Joanna's life was saved by the kindness of a stranger, and the two women are now close friends. 
Joanna Love remembers the moment that her surgeon walked into the room to report on the status of her kidney donor: "The donor's surgery was successful," shared Dr. Liane Feldman. "You're going to have a very, very good kidney!" 
These words nourished Joanna's faith before going into surgery for her kidney transplant. Joanna received a healthy new kidney from a stranger, an unlikely dream come true—previously, Joanna had been told that she'd stay on the waiting list for at least four to five years due to the lack of living donors in Quebec. While having braced herself for many more years on dialysis, Joanna ultimately got a strong new kidney this summer and was able to get off dialysis. 
She sat up in bed after surgery, still feeling awed by all that was taking place, when a member of her care team walked into the room: "This is from your donor," said Georgia George, placing a beige envelope on the table. "Your donor wrote you a letter!" 
Joanna recalls eyeing the letter over and over again as she anxiously waited for her husband to come to the hospital. Finally, her husband arrived, and Joanna read the letter out loud. Joanna and her husband were both blown away by the loving words that her donor had penned. It had taken the donor several drafts and the shedding of many tears before getting the letter just right. 
"Neither of us knew the other person because there are strict laws in place that protect the donor and recipient's rights to anonymity," explains Joanna. "I wanted very much to meet my donor. I was amazed that my donor had written to me and that she was willing to meet me!" she joyously recalls. 
Joanna recovered from surgery, as did her donor. At this point, the two women still didn't know anything about each another.  
Like a long-lost friend 
Weeks later, something special came knocking on Annie Devost's door: a response letter from the person who had received her kidney! 
"The day I received the letter, I had some errands to run. I remember thinking, I'll read the letter and then go run my errands. Well, Joanna had revealed her identity to me in that letter, so I forgot completely about those errands and everything else!" laughs Annie tearfully. "I now knew exactly who I had donated to, a woman named Joanna! She had told me that she has two kids and that she wants to meet me! My heart was overcome with a beautiful feeling; it was overwhelming happiness." 
Joanna and Annie chose a quaint, scenic spot near mountains and water for their face-to-face encounter. Both had shown up with butterflies and questions, but the moment they saw each other for the first time, all barriers melted away. Annie rushed to Joanna, embracing her warm and deeply like a long-lost friend. 
"You know when you meet someone and you feel like you've known them for a very long time? That's how it felt with Annie. There was no barrier for us, and we talked about everything. The first question I asked her was, 'Why did you do this?' I kept saying to her, 'I don't understand how you can so selflessly do this.'" 
"I left that meeting feeling so wonderful in my spirit," shares Annie. "My heart was light. What a beautiful person Joanna is. I am so blessed!" 
A precious truth is revealed 
Ever since revealing their identities to one another, Joanna and Annie have been able to confide to each other the deeper stories of their lives; trial, tribulation and victory.  
"One important reason why I decided to become a living donor is because I was going through a rather dark period following the passing of my mother," Annie confides. "Since I don't have children, I felt the need to do something worthwhile, the need to give life back to someone." 
Eventually, another precious truth was revealed between them: 
"When I went in for my surgery," recalls Annie, "I had a feeling deep inside that the recipient was also there at the Royal Victoria Hospital. It's like I could feel that other person's presence, though I had no proof… My kidney could have been sent to anyone throughout all of Quebec. Well, Joanna has since confirmed that she was indeed in the hospital that day! The day I had my surgery, Joanna was resting a couple of floors above me! That means the world to me."
Annie strongly encourages people to open their hearts to donating their kidney while they are still alive. Her advice is to at least start the screening process to see if you are eligible. 
"The hospital makes absolutely sure that you are in top shape before agreeing to let you be a living donor," she explains. "They also make you feel very at ease about stopping the process, if you change your mind. There is no pressure, which makes you feel comfortable throughout the process. 
"I'm so happy I did this. I was inspired by a story that I'd heard on the radio, and perhaps someone out there will be inspired by my story with Joanna. I hope that even one person will be inspired. It really makes you believe in humanity, doing something like this for someone else."