Improving patient care – one meal at a time
Critics abound, especially when it comes to hospital food, but the updated inpatient menus at the MUHC go a long way toward dispelling any outdated stereotypes about the food served. Basil pesto salmon, peach glazed beef meatballs and vegetarian lasagna with green salad and French dressing – these are just a few of the delicious high-protein options that are now on the menu. 
Menu planning - a complex puzzle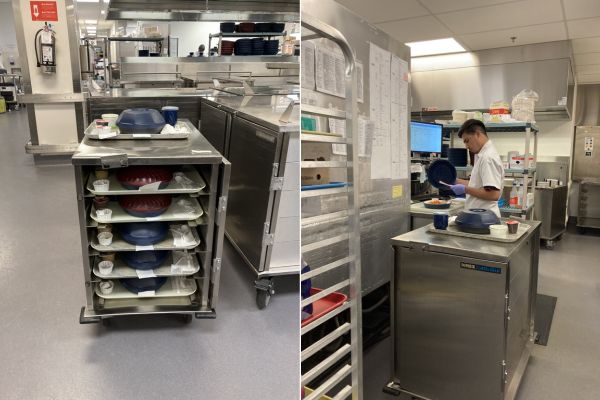 MUHC Food Services makes over two million meals a year – many for patients on special diets. A menu overhaul was past due, but the project was complicated and time-consuming. "It was a huge undertaking," admits Coordinator Micheline Chammaa. 
Balance, nutritional quality, portion size, colour, flavour and textures were pivotal in the makeover. The priority was to enhance the patient experience and create diverse, innovative and more nutritious meals. "There is a lot more nutrient dense, energy rich food on the menus," says Deborah Fleming, manager of Clinical Nutrition Services (adult sites).  "Some of our soups are enriched and higher in protein, which is so important for wound healing and for our patients to get better, faster."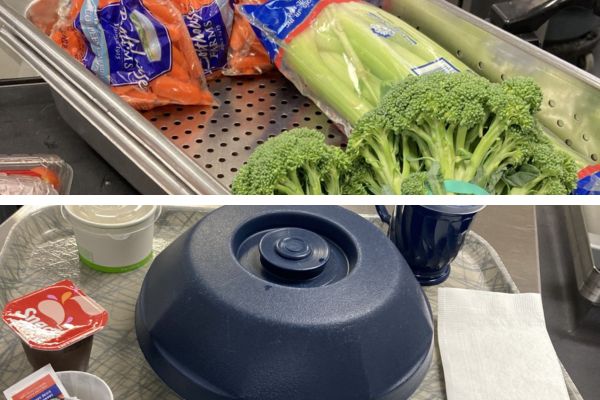 Out with the old, in with the new 
The desire for comfort food means traditional fare like meatloaf, gravy and mashed potatoes are still available, but some unique offerings freshen up the selection. Three Sisters soup, a classic Indigenous recipe made with a trio of corn, squash and beans, has been added at the Glen. "In some cases, our staff is using different ingredients in meal prep to meet nutrient requirements and make the meal enriching and tasty," says Micheline. Vegetarian options, lean meats, fish, seasonal vegetables, fruits and whole grains round out the choices. 
Picky eaters – don't despair 
Each hospital site has a different menu that operates on a cycle and offers a daily option with alternatives. Patients at the Montreal General Hospital and Glen site have the bonus of ordering à la carte. If a patient needs help finding options that meet their prescribed diet, dietetic technicians are just a phone call away. "There are other choices, like spaghetti or sandwiches or a salad," adds Micheline. Unlike "hotel style" room service, meals must be ordered in advance and are delivered to the unit at regular mealtimes.  
Monitoring food waste  
Food Services is also optimistic that the new menus will translate into less food waste. "The team wants to see their trays come back empty," says Micheline.  "Their goal is to satisfy the patient and give them a voice." Deborah agrees, "The clinical nutrition team is excited to have a tool that helps patients meet their nutritional requirements and preferences.  There is a lot more variety now."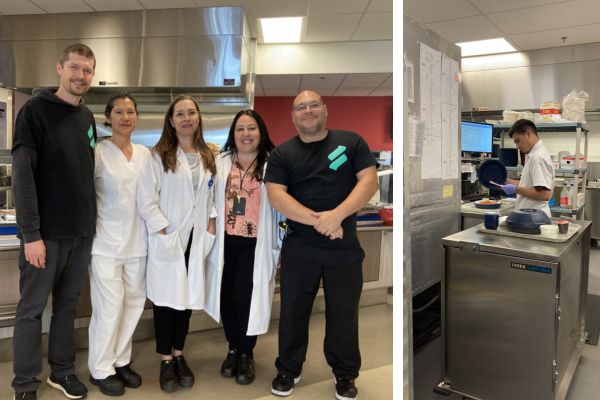 Something for everyone at the MUHC 
Patients aren't the only ones sampling new menus in the coming weeks. Family members, visitors and staff are also in for some culinary changes at the Glen cafeteria with the addition of a new hot table featuring more vegetarian choices.   
The inpatient menus will be rolled out gradually starting September 6 at the Glen and MGH sites and continuing September 7 at the Neuro.  You can consult the new menus here.