CIQ 2022 Merit Award presented to pharmacist André Bonnici
Pharmacist André Bonnici received the Merit Award from the Conseil interprofessionel du Québec (CIQ) at the association's awards ceremony held in Montreal on October 6th.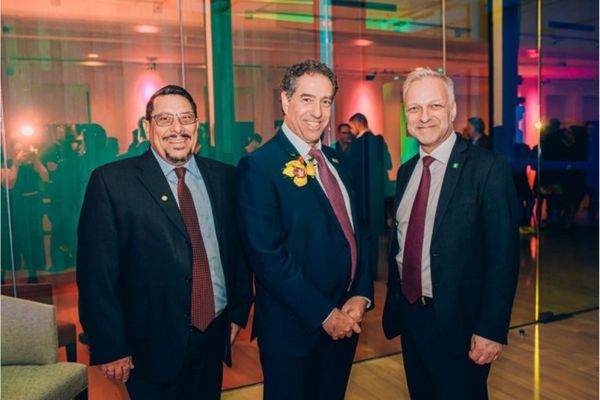 From left to right - Michel Alsayegh, President l'Ordre des chimistes du Québec and CIQ executive committee member, André Bonnici, recipient Merit Award and Bertrand Bolduc, President Ordre des pharmaciens du Québec
Photo credit: Caroline Perron
A 1991 graduate of the Faculty of Pharmacy at the Université de Montréal, André served on the Ordre des Pharmaciens du Québec (OPQ) board of directors for eight years, from 2012 to 2020. As a member of this association, he promoted several issues including the expansion of the pharmacist's role to better meet the needs of the population, the recognition of the status of practitioner for pharmacists by the federal government and the implementation of the regulation respecting compulsory continuing education for pharmacists. 
As a member of the board of directors of both the OPQ and the Canadian Society of Hospital Pharmacists, André also advocated for the creation of a new job title of pharmacy technicians, as well as a college program to train them.
A dedicated and visionary pharmacist, André's expertise is in demand and well respected. He regularly speaks in the media on subjects related to pharmacy and its issues, including the management of drug shortages, automation and the importance of hospital pharmacists. 
Pharmacist-in-Chief at the McGill University Health Centre, André has more than 25 years of management experience in a tertiary academic health institution. In 2018, he was awarded the Prix d'excellence Roger-Leblanc from the Association des pharmaciens des établissements de santé du Québec for his outstanding career in a healthcare establishment.
About the Merit Award 
The CIQ Merit Award is presented on the recommendation of the professional association to one of its members whose achievements have had an impact on the development of the association and whose significant contributions to the advancement of the profession are aligned with the values of the organization. 
L'Ordre des pharmaciens du Québec 
The mission of the Ordre des pharmaciens du Québec is to protect the public by supporting quality pharmaceutical services and promoting the responsible use of medication. It represents nearly 10,000 pharmacists. 
(Translated from the Ordre des pharmaciens du Québec. To view the original French release, click here.)