Congratulations to the Lachine Dialysis unit, whose central lines have been infection-free since January 2019!
Congratulations to the Lachine Dialysis unit, whose central lines have been infection-free since January 2019!
The McGill University Health Centre (MUCH) extends huge congratulations to the Dialysis unit at the Lachine Hospital for maintaining an impressive infection-free streak: since the beginning of 2019, there hasn't been a single infection in central lines. Among other factors, Assistant Nurse Manager Lu Yu Jiang credits this victory to the culture of transparency upheld by the department.
"The nurses here do an excellent job not just of cleaning, but of communicating," she says. "Transparency is our culture. It's how we keep each other accountable."
Indeed, when taking over a colleague's shift, nurses start by checking that all patients' catheters are clean. If they notice even a speckle of old blood, or that bandaging is just a hair out of place, the nurse will make sure to teach their colleague how to do it better, for next time.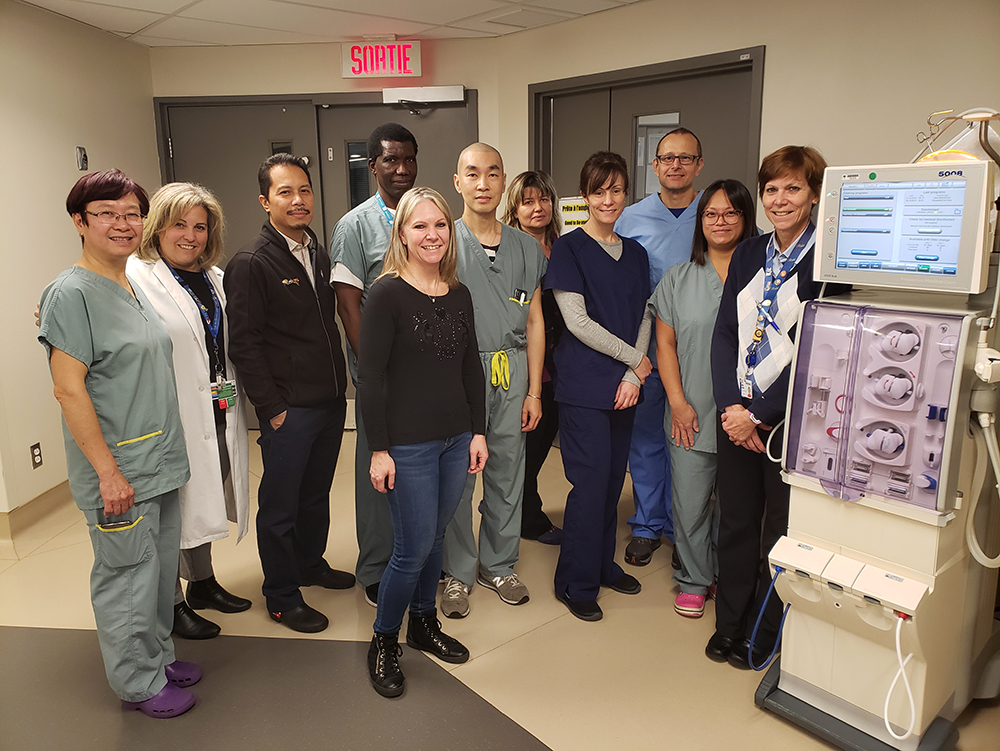 The power of prevention
Because catheters are placed so close to the heart, infection is the most dangerous complication for a dialysis patient – they can fall very sick, and even end up in the ICU. In the Lachine Dialysis Unit, staff take all necessary precautions to prevent infection, even on a hunch.
"Visible signs of infection only manifest a couple of days after bacteria have spread," explains Lu. "For this reason, we don't dilly dally when our gut tells us something's wrong. We ask ourselves over and over again, Did I clean well? Did I really do a good job? I say it to my team all the time – clean, clean, clean!"
Meeting patients' needs
Communication on the Dialysis unit is used as a tool for patient empowerment, too.
"We take the time to teach optimal hygiene practices to our patients so that they trust themselves to care for their own catheter," says nurse Stephanie Leduc. "One of the things we emphasize is bathing. Since humidity can lead to bacteria, we teach patients alternatives to taking showers, such as having a sponge bath."
While many patients are happy to heed the trusted advice from nurses, some find it difficult to make compromises. In these instances, Lu says nurses choose to compassionately step up and act on the basis of infection prevention.
"If we know that the patient will shower despite our best practice guideline, we advise them to cover the catheter site and dressing completely with a plastic membrane, ensuring that it is well taped to prevent any water infiltration," explains Lu. "The next time that they return to hemodialysis, we inspect the area to ensure that the dressing remains patent."
Lu notes that patients sometimes adopt more lax hygiene practices when their spirits are low. And so, nurses go the extra mile to remind patients to stay strong.
"Some of our patients have been with us for years," says Lu. "We are like family."
Lachine Hospital's Dialysis Unit cares for 90 patients who receive dialysis treatments three times each week. The MUHC wishes to commend all staff on the unit for contributing to this important achievement – keep up the amazing work!