Lachine Hospital opens its doors to new talent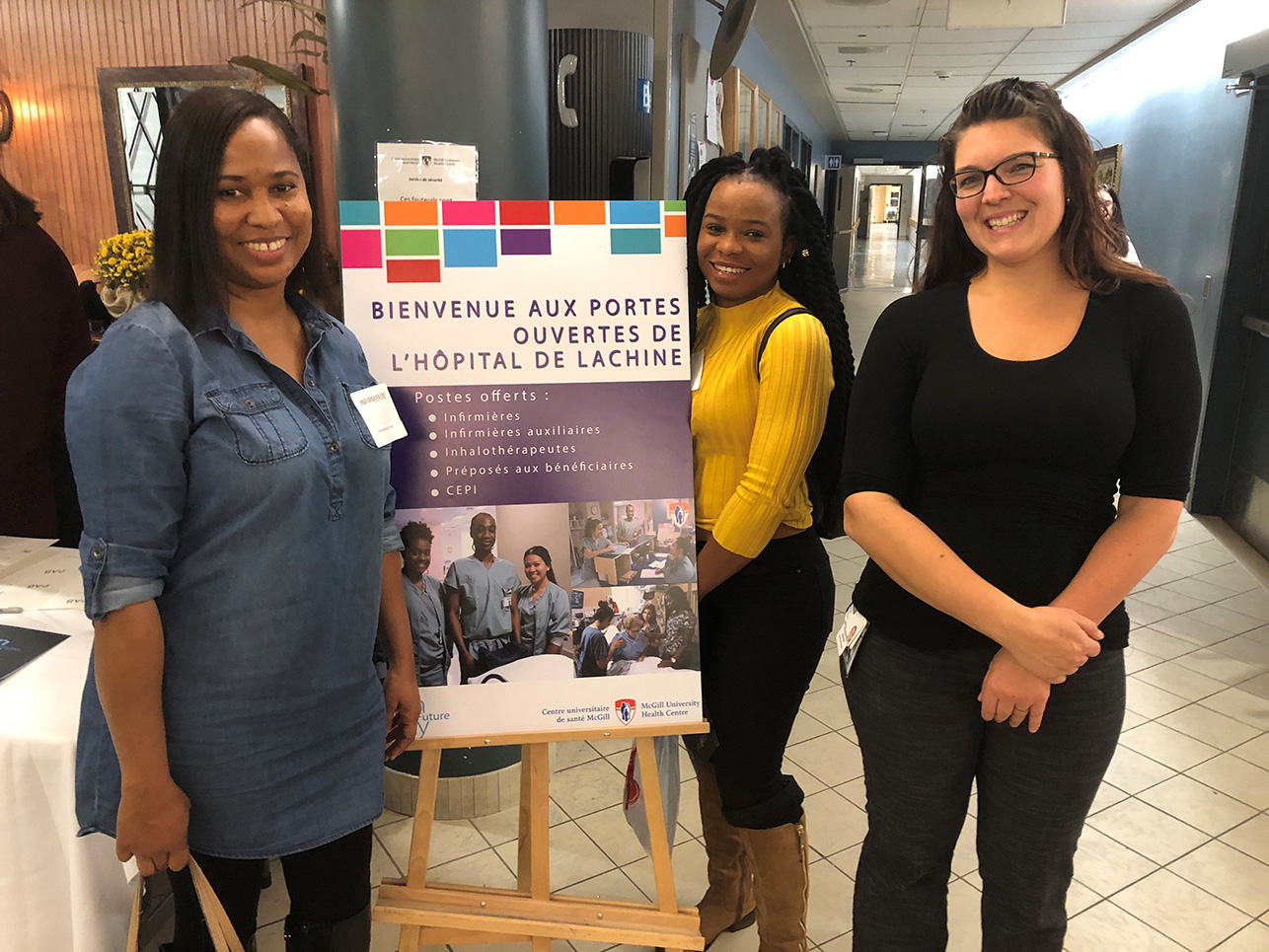 From the welcome to the interviews, everything was thought out to make the Open House a success.
 "Are you ready for a visit? Come on and follow me! "calls Stéphanie Tchin Lao, a nursing consultant at the Lachine Hospital. A group of potential candidates for nurse, auxiliary nurse, orderly and CEPI (candidat à l'exercice de la profession infirmière) positions is quickly forming behind Stephanie, who is now proceeding swiftly to the elevator. I barely have time to grab my notebook and join these very special visitors who came to the Lachine Hospital last November 21 to familiarize themselves with what could be their new work environment.
"I am from Lachine, and I have just finished my nursing assistant course," says Melissa Lafrance, one of the candidates. "For me, it would be such a great opportunity to work here. The welcome is exceptional, and I love the community spirit of this hospital. I want to bring a special human touch to my work - this is how I can contribute the best."
The Lachine Hospital has an excellent reputation for providing healthcare and services to the community. As part of the McGill University Health Centre (MUHC) since 2008, Lachine Hospital patients experience the comfort of a community-based hospital environment, while benefiting from the resources of one of the world's foremost academic health centres. The human resources team under the leadership of Valérie Lacombe, head of talent acquisition, welcomed 50 potential candidates to this event in a friendly atmosphere. The team organized visits and also interviews for eager candidates. A dozen interviews were held at the Camille Lefebvre Pavilion, and more than 25 other interviews were scheduled for the following days. The event was such a success that a conditional employment offer was made the very next day.
Working together to achieve great results
Chantale Bourdeau, Assistant Director of the Lachine Hospital, and Caroline Dubé, Director of Human Resources, Communications and Legal Affairs, were jubilant. "The human resources team have done a fantastic job," says Chantale. "They have provided us with extraordinary candidates. Thanks to Caroline for her support, and congratulations to Valérie Lacombe and her team! ". As for Caroline Dubé, this evening was a very special moment: "This is exactly the kind of support we, as human resources professionals, aim to offer our clients as part of our repositioning exercise. It's very special to see people working together to achieve great results. "
The Lachine Hospital is currently involved in a major modernization project. Dubbed HOP Lachine! – A hospital oriented towards patients, this project, which is being developed in partnership with the Ministry of Health and Social Services (MHSS) and the Société québécoise des infrastructures (SQI), aims to expand the community hospital and upgrade some units of the historic building. Once completed, it will allow the hospital to maintain its high quality of care with modern facilities and individual rooms.
In this context, acquisition of talent becomes a high priority, and the Open House proved to be a successful event. "I love this welcome," says a nursing assistant and candidate at the end of the visit. "Right now, I specialize in home care. But I would really like to work in a hospital environment, where there is so much to learn. I can't wait to come back!"
Good luck to all candidates!