Employee spotlight: Occupational Therapy Month!
An interview with Bianca Abbate, MUHC occupational therapist. Thank you Bianca, and all your colleagues, for the amazing work you do!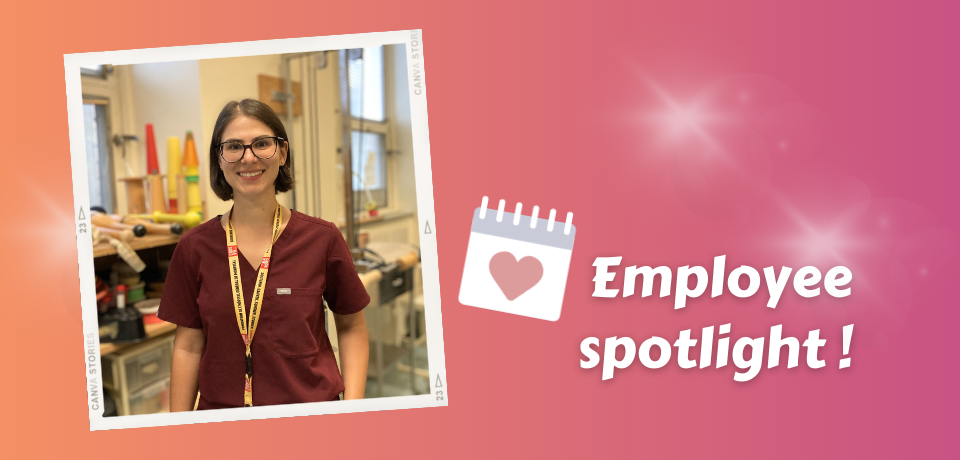 Q 1. What led you to becoming an occupational therapist?    
What drew me to occupational therapy is its wholistic approach to rehabilitation. I work specifically in hand therapy, treating patients who have sustained traumatic injuries or surgeries to their upper extremities. Our hands play a fundamental role in our independence, and it is extremely rewarding to watch people get better by working towards the activities that matter most to them. This can vary tremendously, from relearning how to tie shoelaces to playing the violin.  
Q 2. What is the best advice that someone at the MUHC ever gave you?    
"You cannot care for others if you do not care for yourself." Many of us who work in health care give so much of ourselves to our jobs and to our patients. We often need to be reminded to practise self-care. It's all about occupational balance! 
Q 3. Tell us about working with your fellow colleagues.  
My colleagues play a major role in my job satisfaction, and I would not trade them for the world!  
On a professional level, we share the same values regarding patient care, as well as a collective vision for developing our expertise and practice. On a personal level, I find myself very fortunate to have colleagues I can also call friends. These are the people who best understand the challenges I face throughout the day. Their empathy, words of encouragement, and good humor turn a job into so much more.  
Q 4.  How do you like to relax and unwind after a shift?   
After a whole day in the hospital, I want to get outdoors or get my body moving before getting home. It can be as simple as taking a walk, riding my Vespa, or reading a book in the park. Otherwise, hot yoga is one of my favourite activities. It is as much a release for the body as it is for the mind.