RI-MUHC trainee wins Best Abstract award from the Canadian Rheumatology Association
Leah Flatman, a trainee at the Research Institute of the McGill University Health Centre (RIMUHC) and doctoral candidate in the Department of Epidemiology, Biostatistics and Occupational Health at McGill University, won the Best Abstract by a Post-Graduate Research Trainee award at the 2023 Canadian Rheumatology Association Annual Scientific Meeting, held in Quebec City this month. Leah's study, "Hospitalization with Infection in Offspring Exposed During Late Pregnancy to Tumour Necrosis Factor Inhibitors with High versus Low Placental Transfer Ability", aims to evaluate the risk of serious infections in offspring born to mothers with chronic inflammatory diseases such as ankylosing spondylitis, rheumatoid arthritis, inflammatory bowel diseases, psoriasis, and psoriatic arthritis. 
"Specifically, we were interested in those offspring who were born to mothers who took tumour necrosis factor inhibitors ─ or TNFi ─ within 12 weeks before delivery," she explains. "As TNFi can cause immunosuppression in the offspring, we looked at the risk of hospitalization with infection in their first year of life between two groups of offspring. We were unable to identify a clearly increased risk of serious infections in the first year of life in offspring exposed to high versus low placental transfer TNFi." 
Praise for doctoral trainee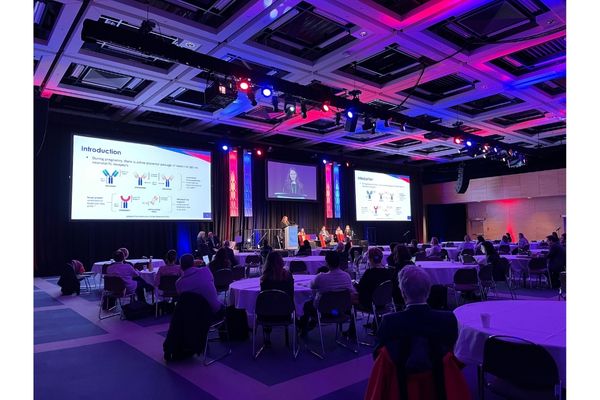 "Leah is one of the most promising students we have worked with," says Dr. Sasha Bernatsky, Flatman's co-supervisor at the RI-MUHC alongside Dr. Evelyne Vinet. "Her research on optimizing drug use in pregnancies complicated by autoimmune disease is really important, as proven by this national honour that the CRA awarded her.  
Congratulations Leah! 
Read the full story here. 
Source: RI-MUHC