D7 Cardiac Surgical unit chosen to present findings at SIDIIEF conference in September
The D7 Cardiac Surgical unit at the Glen is honoured to have been accepted for a poster presentation at the September 2022 conference of the Secrétariat international des infirmières et infirmiers de l'espace francophone (SIDIIEF).
Patient and family education is a crucial component of care in order to ensure comprehensive support for patients with left ventricular assistive devices (LVAD). Nurses on the D7 Cardiac Surgical unit conducted a survey of nurses and patients to identify areas of improvement involving the discharge education of their LVAD patients. The nursing survey was conducted to assess the nurses' knowledge, skills and understanding of the discharge process of a patient with an LVAD. The patient survey was used to assess their experience with the discharge process.
As a result, an LVAD discharge checklist was created in collaboration with nursing, the perfusionists and the multidisciplinary team to ensure all elements are addressed and all team members are aware of where the patient is in the discharge education process.
The team's poster presentation will focus on the results of these two surveys and the implementation of the LVAD checklist on the unit.  
Congratulations to the entire team!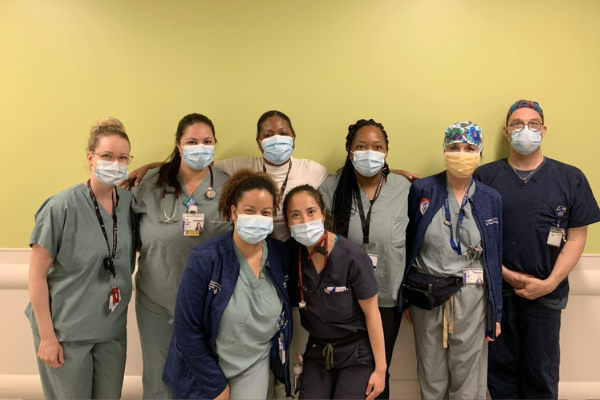 From left to right - top row: Jasmine Lee Hill, Advance Practice Nurse; Andreina Ibarra, Nurse; Millie Firmin, Nurse Manager; Marly Alix, Nurse Practitioner, France Denis, Perfusionist; Claude Perron, Nurse
From left to right - bottom row: Nissa Poisson-Thomas, Perfusionist; Coralie Thibodeau, Nurse