Road work at the Glen Campus
For ten years, the MUHC, the City of Montreal and the Quebec Ministry of Transport have been working together with the help of professionals to create an accessibility plan for the Glen Campus. The guiding principle of this plan is to adequately serve the hospital while limiting the impact on the municipal road system; directing vehicles to highways; ensuring everyone's safety; offering rapid routes while taking into account citizens' needs; promoting active and public transportation; and ensuring the optimum and sustainable use of public funds.
The accessibility plan at a glance
Construction of an off-ramp from Autoroute Décarie to Addington Street (work completed)
Creation of an emergency access point from Glen Road (work completed)
Deviation of Crowley Avenue (work completed)
To facilitate the widening of Décarie Boulevard as well as the reconstruction of the Canadian Pacific overpass, Décarie Boulevard will be closed between Crowley Avenue and De Maisonneuve Boulevard during the construction work. During this period, Crowley Avenue will be extended to reach Upper Lachine Road. Once construction on Décarie Boulevard is finished, the Crowley Avenue deviation will become permanent.

Autoroute 720 West, Closure of the Saint-Jacques Exit from February 1st (January 26, 2011)

Boulevard Décarie scheduled to close (January 17, 2011)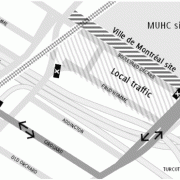 Click to enlarge image
Due to major work required to widen Décarie Boulevard, and the presence of numerous construction trucks needed for roadwork and the installation of new sewage pipes, the City of Montreal is forced to close Décarie Boulevard to avoid car accidents and traffic jams. Here is a breakdown of the upcoming road closure:
Décarie Boulevard SOUTHBOUND LANE between St-Jacques and De Maisonneuve will be temporarily closed to traffic between January 28 and February 3, 2011.
Décarie Boulevard NORTH between St-Jacques and De Maisonneuve will be closed to traffic as of January 24, 2011.
Decarie Boulevard SOUTH between St-Jacques and Crowley will be open to trucks exiting the Glen Campus and local traffic only.
An opening will be made in the central median on Saint-Jacques (corner Prud'homme), to allow residents to turn onto their street while heading EAST. All traffic will be re-directed to Girouard.
Girouard will be made into a two-way street and the entrance of the 15-SOUTH autoroute will be closed.
The 17 and 420 buses will be re-routed via Saint-Jacques and Girouard.
For more information please call or go to: ville.montreal.qc.ca/chantiers / 514-872-3777.
Road work to come
Fall 2010: Construction of a buried pipe under the railway tracks located near the intersection of Boulevaerd De Maisonneuve and Boulevard Décarie.


Fall 2010 - Spring 2011: Construction of a large collector sewer 3.6 metres in diameter along the eastern side of Boulevard Décarie.


Fall 2010 - Spring 2011: Redevelopment of the Saint-Jacques/Décarie intersection.


Spring 2011 - Fall 2012: Reconstruction of the railway bridge.


Summer 2011 - Fall 2011: Reconstruction of underground infrastructures (sewer-aqueduct) on the western side of Boulevard Décarie.


Spring 2012 - Fall 2012: Sidewalk widening, road reconstriction, tree and shrub planting, installation of street furniture and lighting.


Winter 2013 - Spring: Reconstruction of sewer and water mains at the intersection of Boulevard De Maisonneuve and Boulevard Décarie.


Spring 2013 - Fall 2013: Redevelopment of the De Maisonneuve / Décarie intersection and Chemin Upper Lachine.
All the latest info for citizens and merchants is available on our Twitter page.
The MUHC is working closely with the Ministry of Transport to coordinate the road work with the construction of the Turcot interchange. Strategies to create site access via Saint-Jacques Street and to the highway in both the westbound and southbound directions are currently being finalized.


Agreement on Glen Campus infrastructure
Additional information on roadwork is available at:ville.montreal.qc.ca/chantiers. You can also call: 514-872-3777 or e-mail: info-travaux [at] ville [dot] montreal [dot] qc [dot] ca