Dr. Pierre Gfeller
President and Executive Director, MUHC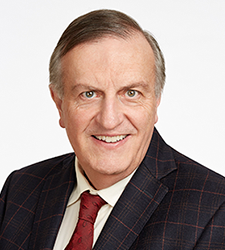 A family physician by training and Master in Business Administration, Dr. Gfeller has been dedicated to hospital administration for the past 20 years and in doing so has developed an expertise in managing change in the context of the reorganization of health and social services. Throughout his career he has demonstrated a capacity to bring diverse interests together to create positive working relationships and solid and effective partnerships.
Before joining the MUHC as President and Executive Director, Dr. Gfeller served in the same capacity at the CIUSSS du Nord-de-l'Île-de-Montréal, where he oversaw the successful integration of hospitals, specialized clinics, CHSLDs and CLSCs and the recruitment of a strong and diverse management team, while balancing the budget. With Dr. Gfeller at the helm, the quality of care improved, and positive and constructive working relationships were developed with stakeholders. Previously, Dr. Gfeller had held the role of Executive Director at Sacré-Coeur Hospital, where he was a key player in improving the work climate and establishing partnerships and collaborative relationships with the medical leadership, Faculty of Medicine at the University of Montreal, Board of Directors and Foundation, to name a few. During this time as Executive Director, a balanced budget was achieved, care improved and the hospital was accredited without reservation by Accreditation Canada (2014).
Dr. Gfeller began his mandate as President and Executive Director of the MUHC on May 28, 2018. During his first 100 days, he intends to consult broadly with stakeholders to propose the strategic priorities of the MUHC in order for it to fulfill its mandate as a leading academic health centre. The plan will build on the MUHC's strengths in terms of patient care, teaching, research and technology assessment.