Long chemotherapy sessions, radiation and other cancer treatments can be hard on the body of patients living with chronic and sometimes terminal cancer. Fortunately, a good nutrition plan adapted to the patient's needs, can make a whole difference when it comes to improving their quality of life.
The end of life journey is never easy—one man gives back to the MUHC for the exceptional care he received throughout his battle with cancer.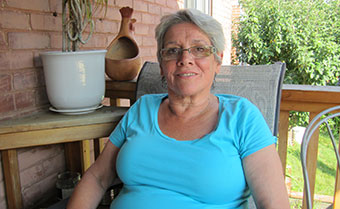 "He wasn't himself for a good year and a half," says Giulia Collins of her husband Bill Powney. "When I look back now, it seemed to start with a pain in his neck. He went to physio and had regular massages but nothing seemed to alleviate the pain."
Because Powney was very involved in the Montreal rugby community he was close with McGill University Health Centre (MUHC) emergentologist and rugby player Dr. Karl Cernovitch. "He kept telling Bill to come to the emergency so he could check him out. When he finally went in September 2012 they discovered cancer in his neck, lungs and brain."
Various MUHC specialists were quickly lined up for Powney. He received radiation and chemotherapy and it was during a chemo session that he had the opportunity to meet Dr. Antonio Vigano, director of the MUHC Cachexia Clinic.
"Dr. Vigano changed Bill," says Collins. "He and the team were amazing; they improved Bill's pain meds and they tried different things for his decreased appetite. Whenever we had an appointment we would collectively sit together and they would look at his blood results and come up with care ideas. They were there for Bill and so supportive. He really appreciated their care."
By February 2014, Powney and Collins got the news that the cancer had spread so much that there would be no more chemotherapy. "He lost all his fight after this," says Collins. "But Bill still looked forward to seeing Antonio and everyone else. At that point when he could no longer travel, Mary-Lou Kelly, the nurse in the clinic, called and said she got Mont Sinai and a local CLSC to help us at home. Bill's GP, Dr. John Hughes, was there as Bill's quarterback the entire time as well, and there for me too. I was scared but I felt very much supported."
Bill Powney died on a Tuesday in April 2014. One of his dying wishes was to thank the Cachexia team so Powney and Collins agreed to collect donations for the clinic in lieu of flowers. The money went toward a fellowship, which has supported two graduate students in partnership with the Cedars Education Research and Training Unit at MNUPAL (CERTUM; mnupal.mcgill.ca)
"Quite simply, they are an amazing team," says Collins with a smile. "He was in excellent hands and I will always be thankful for this."
"We definitely use a different approach for each patient," says Jonathan di Tomasso, clinical dietitian at the MUHC. "The circumstances are not the same for someone who has had a lot of surgery, compared to someone who has gone through chemotherapy. I would say the first step is getting to know your patient."
In fact, when patients first come to the clinic they go through an initial assessment that helps the team, which consists of a nurse, a physical therapist, an occupational therapist, physician and a nutritionist, determine their profile and nutritional status. This way, they are better prepared to intervene and correct specific deficits or even help them improve their symptom management, like nausea, taste changes and pain.
"We developed three patient streams: the rehabilitation stream for patients who are disease free and want to get back to their normal lives. The supportive stream, for patients who are still affected by cancer and need support from an interdisciplinary team to complete treatment. And lastly, we have the cachexia* stream for our patients who are trying to optimize their quality of life and well-being despite advanced disease," says di Tomasso.
According to di Tomasso, the plan has to be adapted to patients' needs because symptoms are often a combination between the disease and the reaction to treatment. For instance, radiotherapy to the prostate may provoke diarrhea in certain patients, while pancreatic cancer may prevent the digestion of certain foods.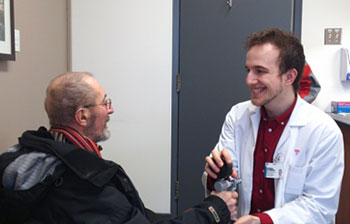 Jonathan di Tomasso, clinical dietitian at the MUHC, with Bill Powney (see sidebar, right) in the Cachexia Clinic.
"What I'll normally do is sit with patients and ask them what they have been eating lately," says di Tomasso. "That way, I have a better idea if they're meeting their nutritional needs. Are they eating enough? Are they consuming enough liquids or are they dehydrated? If a patient is not eating enough and on top of that they have diarrhea, then we will treat both problems at the same time," he says.
Since the scenario is different for each person, patients may come to the clinic even before they start cancer treatment or on the contrary, after going through a lot of ups and downs with the disease. "Sometimes patients are tired and need an extra push to keep going," says di Tomasso. "We see our patients every two to four weeks and use a medical chart that helps us keep up with their progression."
And what is the reaction of patients when they come to the clinic?
"They are very happy," says di Tomasso. "There might be a perception that whenever patients are in palliative care it's a little too late to do something. My response to that is that it's always better late than never. Our patients are unique, strong individuals who deserve the best care and treatment that we can offer. It is a very rewarding experience."
* A pathological (= kakos) condition (= hexis) characterized by loss of weight, appetite and strength which is often associated with advanced or terminal stages of illnesses such as cancer, AIDS, lung or cardiovascular diseases etc.
Whether you are a patient or family member who has experienced our care, a dedicated staff member, volunteer or a devoted supporter, we want to hear from you.
If you would like to share your success story with us, please click here.
MUHC Patient's Committee