Education
Excellence in Teaching and Education
Teaching the next generation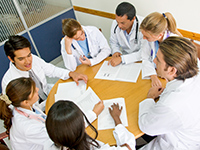 We train close to 4,500 health care professional annually
Each year, over 5,500 people are trained at the MUHC, including more than 1,000 medical and surgical residents, 2,400 nurses, 550 medical students, 1,200 researchers, and 400 students in other health-related fields. These students go on to become the next generation of health professionals, serving our community at the MUHC and other Quebec institutions.
Medical students and professionals need facilities that let them interact in a way that is sensitive to the needs of patients and their families and that give students access to the latest medical methods, technologies and procedures. New MUHC is strengthening our teaching abilities, thanks to:
Single-patient rooms with ample space for students so teaching can take place without compromising patient confidentiality or comfort
Access to high-tech simulators to practice complex surgical techniques outside the operating room
Dedicated teaching areas for students and teachers to interact comfortably away from patients
Telemedicine and other communications technologies allowing for remote teaching, giving students the chance to learn from professionals across Canada and around the world
For a complete list of Departments, Schools and Centres affiliated with the MUHC and the Faculty of Medicine, click here.
Medical Education Programs
The McGill Faculty of Medicine offers both clinical and scientific training programs. A large proportion of such training is carried out within MUHC hospitals. Programs are offered at the undergraduate, graduate, and postgraduate levels. Continuing education programs for faculty members are also offered, as well as a public education program in science and medicine. Click here for complete list of clinical and basic science departments within the Faculty of Medicine.
Allied Health Professions - Professional Schools
Several schools that are part of the allied health professions are also part of the McGill Faculty of Medicine. These include the School of Nursing and the Schools of rehabilitation and communication sciences. They offer both professional (applied) and research-oriented educational programs.
Patient Resource Centres
The MUHC hospitals all have Patient Resource Centres that provide patients and their families with the latest medical information, as well as support and community resources. Some of the material is bilingual (English/French), and some Centres have computer workstations that can link users to reliable and current consumer health information on a wide range of topics. Librarians