Biking, swimming, rollerblading, boating and other activities let us indulge in the carefree spirit of the season. However, in many cases, a bit of care can go a long way in preventing traumatic injuries. Debbie Friedman, director of The Montreal Children's Hospital Trauma Programs and director of The Canadian Hospital Injury Reporting and Prevention Program (CHIRPP MCH), and Dr. Dan Deckelbaum, a trauma surgeon for the McGill University Health Centre adult sites, want you play safe, and remember their injury prevention tips, to help ensure your you get the most out of summer.
SWIMMING TO SAFETY
Regardless of age or swimming ability everyone is at risk of drowning. In Canada, drowning is one of the leading causes of death in children between the ages of one and four years old. An overwhelming 50 per cent of Canadian deaths from drowning occur in Quebec. Each year in our province, more than 75 people die and more than 50 people are hospitalized due to drowning or near drowning.
Home pools:
We strongly recommend swimming lessons startingat an early age
We strongly recommend fencing around pools
There should be no direct access to the pool from the house
Empty kiddie pools when not in use—it takes as little as five centimetres of water for a child to drown
Never leave young children near hot tubs
If there is alcoholic drinking around the pool, there should be designated non-imbibing people to watch children
Summer outings to water parks and pools:
Verify swimming levels of all kids, and only allow children who have taken formal swimming lessons to partake in the activity
An emergency plan should be in place for all summer outings. It is also important to have a buddy system in place and a systematic regular counting of children. Buddies should have to count off.
Staffing of life guards should be adequate for the volume of participants and the risk of activity
Wave pools should be turned off frequently to prevent children from being dragged under the current
Water parks should check all suction vents and equipment regularly to make sure there are no problems
Everyone needs to be vigilant and at arm's length when children are swimming
Boating:
Always wear life jackets—no one is drown proof
Don't drink alcohol while boating
Ensure you are knowledgeable of the ways of the water when boating
WINDOW SCREENS ARE NOT NETS
Already this year, The Montreal Children's Hospital has treated several children who have fallen from heights greater than 20 feet. Window screens are not strong enough to hold the weight of a child, and with kids being as curious and active as they are, they can climb up and topple out of a window. Over the past 10 years, our trauma centre has treated more than 50 children who have sustained serious, and in several cases, fatal injuries after falling from a window.
With the construction of new homes, the recommendation is to place windows higher than usual so children can't climb up and out
Place guards, stops or partial bars on windows. These devices can be purchased at hardware stores. Screens are flimsy and provide a false sense of security
Never leave children unattended in front of an open window. If the stops and guards are in place, falls out of windows should not occur
Don't place furniture in front of a window
DOES YOUR ATV CONTROL YOU, OR DO YOU CONTROL YOUR ATV?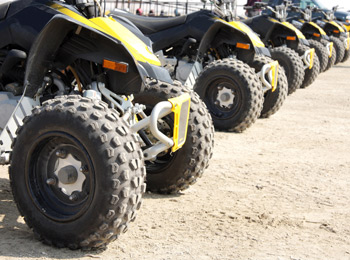 All-terrain vehicles (ATVs) are motorized vehicles designed to be used by a single operator in off-road areas. In spite of their growing popularity, they pose risks of serious traumatic injury, particularly to children. The temptation to drive an ATV at high speeds, combined with a construction that has a high centre of gravity, makes these vehicles very unstable. The number of serious ATV-related injuries sustained in recent years has increased substantially. The MCH sees about 20 cases per year, including brain injury, spinal cord trauma, dental, facial and abdominal trauma and multiple fractures. According to the Pediatric Society of Canada, nearly 25 per cent of ATV-related deaths occur among children under 15 years of age.
Always wear a motorcycle-type helmet – it's the law!
ATV riders are required to take a training course and get a certificate to drive. To carry a passenger the driver must be at least 18 years of age
Ensure your child is the appropriate age to operate an ATV. Children under 16 years of age do not have the strength, experience or skill to safely handle this type of vehicle
Avoid speed, alcohol consumption, and bad weather, when operating a single person ATV, and do NOT carry passengers (this changes the balance of vehicle and makes it harder to control)
Wear bright clothing to be more visible
KIDS WITH CARS
Young drivers account for 10 per cent of drivers on Quebec roads, yet the latest statistics show they account for nearly a quarter of motor vehicle collisions. Between 2006 and 2010, speed was the factor in more than half of crashes. Drivers who text are 38 per cent more likely to be involved in a car crash. The main culprits of vehicle accidents are excessive speed, recklessness, texting, fatigue, alcohol, drugs and inexperience.
Encourage teens to develop a sense of responsibility and sound judgement when driving
When parents hand over the car keys, they need to be sure their teen can be trusted. This includes knowing your child will adhere to speed limits; that they will ensure all passengers are buckled up; they will not drink and drive; and that they will stay focussed on the road, i.e. not be distracted by cell phones, iPods, loud music or other distractions
If there is an activity involving alcoholic consumption, ensure there is always a designated driver. If necessary, call a taxi or a parent (parents should make this an easy option for their child) for a safe return home
Riding a bike? Use your head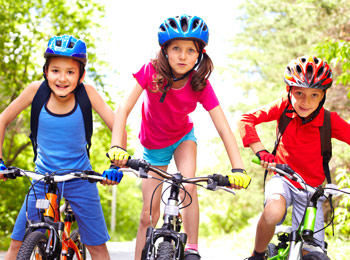 In 2009-2010, nearly 80 per cent of Canadian cyclists who were hospitalized for a traumatic brain injury were not wearing a helmet at the time of their injury. It is well established that helmet use significantly reduces the severity of head and brain injuries, yet helmet use in Montreal the majority of cyclists still choose not to wear one. Dr. Dan Deckelbaum associates this with a "this won't happen to me" type syndrome. But when you look at patients who have sustained head injuries they are no different from anyone else. In retrospect, most patients wish that they had worn a helmet that might have prevented their hospitalization. A serious head injury can result in a prolonged hospital stay, time in the intensive care unit, or worse -- death.
Always wear a properly fitted and approved helmet when cycling
Follow and respect the rules of the road
For more information on Injury Prevention, please visit:
www.thechildren.com/departments-and-staff/departments/department-of-trauma-centre
http://muhc.ca/trauma