They swap stories, tease each other, and laugh together. It was the most deadly of cancers in Canada – lung cancer – that brought them together, and that is no laughing matter. Marcelle is the patient and Viviane is her Nurse Navigator – a relationship that came about thanks to the creation of the innovative Lung Cancer Navigation Centre at the McGill University Health Centre (MUHC).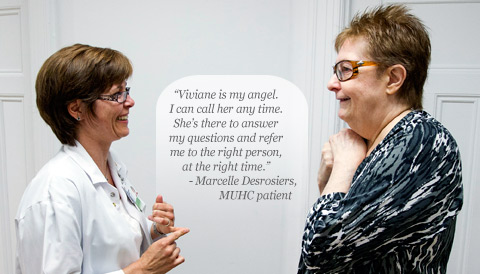 Desrosiers, who is in her sixties explained, "I don't have parents, siblings, or an extended family. My only resources are my few friends, all of whom live outside Montreal. Viviane is my angel. I can call her any time. She's there to answer my questions and refer me to the right person, at the right time."
At first, Marcelle was hesitant about agreeing to treatment. After researching her disease, she learned that her chance of survival after five years was 16 per cent, and that chemotherapy and radiation therapy treatments are extremely difficult. "I read a brochure called Living with Advanced Cancer. In my head, it was like reading my death sentence."
Despite all that, and thanks to the reassurance and support of her Nurse Navigator, she decided to begin wearing the patch to stop smoking and fight for her life.
On average, treatment for lung cancer involves the assistance of 10 healthcare professionals per patient, which can seriously complicate the coordination of care. "This complexity is a source of anxiety for patients," said Amos. "Before the Navigation Centre opened, they would often go from one specialist to the next without any points of reference. After weeks of referrals, some patients even lost track of who their treating doctor was."
Andréanne Saucier, associate nursing director of Cancer Care and Respiratory Services, noted that the MUHC diagnoses 500 cases of lung cancer every year. "For two years now, the Lung Cancer Navigation Centre has made things easier for these patients thanks to a series of simple, efficient initiatives," she said.
The outcome of the Navigation Centre points to definite improvements. In addition to a reduction in patient anxiety, the initiative has succeeded in reducing wait times between the initial referral date and the beginning of treatment by 18 days – a 24 percent decrease.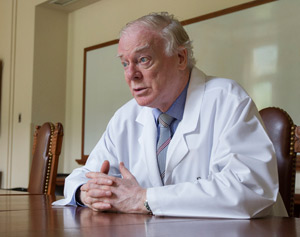 "Although this reduction may seem relatively small, those 18 days have a direct impact on patient survival," stressed the Centre's director, Dr. David Mulder. "Lung cancer is one of the most virulent cancers, and each day gained is of crucial importance to the patient."
The Lung Cancer Navigation Centre is successful not only because of its Nurse Navigators, also known as Nurse Pivots, but also because of the various tools it has employed based on the Toyota Approach. From the start, the Rapid Investigation Clinic quickly diagnoses patients suspected of having lung cancer. Next, the one-stop service—an easy-to-access telephone assistance line—lets the Centre's staff manage medical appointments and support patients experiencing any difficulties. So far, 1,214 patients have been registered in an electronic surveillance system that monitors treatment delays or waiting periods in real time. Finally, a continuous evaluation of the program makes it possible to identify deficiencies and correct them.
Lung cancer
In Canada, lung cancer is the most deadly form of cancer. It is estimated that 20,200 people in the country will die from this disease in 2012. More than 8,000 new cases will be diagnosed in Quebec alone this year.
"We believe the Centre is an important breakthrough in improving care for cancer patients. The main challenge for the healthcare system is to optimize working processes and avoid wasting resources, and that is exactly what we are doing with the Navigation Centre," concluded Dr. Mulder.
Desrosiers underwent her 30th radiation therapy treatment at the beginning of June, and about 75 percent of her cancerous tumours are now gone. "I have had other major health problems in the past and I can attest to the difference the Cancer Navigation Centre makes. Throughout my radiation therapy sessions, I slept for an average of 18 hours a day. Without Viviane, I don't know how I would've made it!"
The Lung Cancer Navigation Centre was made possible thanks to the Agence de la santé et des services sociaux de Montréal and the Montreal General Hospital Foundation, with special support from the Jarislowski Foundation. A reference guide aimed at extending this project to other hospitals and the diagnosis of other cancers will be available soon.