Cedars Ride for Hope & Gratitude
Where ?
Domaine château Bromont, 90 Stanstead Street, Bromont (QC) J2L 1K6
When ?
Friday, September 13, 2019 - 08:45 to Sunday, September 15, 2019 - 08:45
Description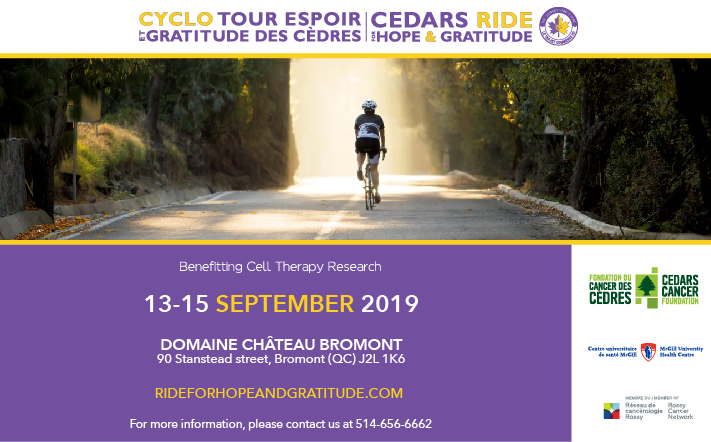 The Ride for Hope and Gratitude is a proud supporter of the Cedars-Laneuville Cell Therapy Research through the Ensign Ewart Research Fund. The mission of this ride is to raise funds for the creation of a new Cell Therapy Unit under the direction of Dr.Pierre Laneuville of the McGill University Health Centre in Montreal QC., administered through the Cedars Cancer Foundation. By establishing this unit, doctors, researchers and patients will benefit from this promising and burgeoning area of research in the fight against cancer. This year we raised an incredible $113,000 for the Cedars Laneuville Cell Therapy Initiative. Thanks to all our wonderful donors and sponsors.
Cell Therapy / Immunotherapy has shown incredible advances in the treatment of blood cancers and other applications and is being utilized as an alternative to certain forms of chemotherapy. The money we raise goes directly to the advancement of cell therapy research under this initiative.
It's not just a ride, it's a journey.