Additional dose of COVID-19 vaccine for targeted groups
The Ministère de la Santé et des Services sociaux has provided guidelines for the administration of an additional dose of COVID-19 vaccine following the recommendation of the Comité sur l'immunisation du Québec (CIQ). 
Opinion on the appropriateness of an additional dose of COVID-19 vaccine for immunocompromised individuals (in French only)
Interval between the two doses of COVID-19 messenger RNA vaccines in immunosuppressed individuals (in French only)
Given the high circulation of the Delta variant, a third dose would provide better protection against COVID-19 for immunosuppressed individuals and those on dialysis.
The recommendation to receive a third dose, preferably with a COVID-19 messenger RNA vaccine, applies to the following groups, 12 years and older:
people on dialysis
people with weakened immune systems, i.e. those :

who are undergoing chemotherapy or radiotherapy
who are taking medications that affect their immune system
who are living with HIV and have a CD4 cell count of less than 500/mm3 and/or are not taking their treatment)
You can advance your 2nd dose appointment at the MUHC
The Montreal General Hospital vaccination clinic closed on August 29th. The Glen site clinic will remain open until September 29th for second dose and eligible third dose appointments.
Click here to advance your appointment. 
The 2nd dose of COVID-19 vaccine is necessary:
it reduces the risk of acquiring and transmitting COVID-19;
it increases protection rate of the vaccine;
it provides optimal protection in the longer term.
One week after receiving the second dose you will be adequately protected.
The authorized interval is four weeks or more between doses of COVID-19 vaccines. The Comité sur l'immunisation du Québec estimates that the eight-week interval between the two doses maximizes the effectiveness of the vaccination.
Click here for more information 
Proof of COVID-19 vaccination
A self-service portal allows you to download your electronic proof of vaccination. Learn more about the portal.
For corrections to your proof of vaccination or if you are unable to download the electronic proof of vaccination with QR code, please call 1-877-644-4545.
Guidelines and information on our vaccination site
 
Important notes:
You can make an appointment online through quebec.ca/covidvaccine or by telephone at 514 644-4545 or 1 877 644-4545 between 8:00 a.m. and 8:00 p.m., Monday through Friday and 8:30 a.m. to 4:30 p.m. Saturday and Sunday. Press 9 to get the English menu and follow the instructions to speak to an agent covering this region: Centre Ouest de l'île de Montréal and McGill University Health Centre. Please do not call the MUHC directly as our Call Centre agents cannot make any changes to vaccination appointments. You must go through these numbers; 514 644-4545 or 1 877 644-4545 to change your appointment.
If you need help to come to your appointment, one caregiver can accompany you inside the clinic. For health and safety reasons, we strongly discourage bringing children or family members with you.
Make sure you go to the hospital where you have your appointment.
Please do not arrive too early. If you arrive a little late, your appointment will still be held.
HOW TO GET TO THE GLEN SITE
The vaccination clinic is located in the Research Institute Building at the Glen site, at 1001 Decarie Boulevard, Montreal, QC H4A 3J1.
If arriving by car: enter the Glen site by Decarie Blvd, Saint-Jacques St. or Crowley Ave. and follow the signs to the special parking area identified in the map below. Once you have parked, please follow the signs to the door of the vaccination clinic.
If you are dropped off by car or taxi: ask the driver to drop you off at the entrance of the vaccination clinic.
If arriving by public transportation: your destination is Vendôme station, an intermodal station accessible by metro, bus, and train. Please, follow the walking directions below.
Please download the map and directions to find your way to the clinic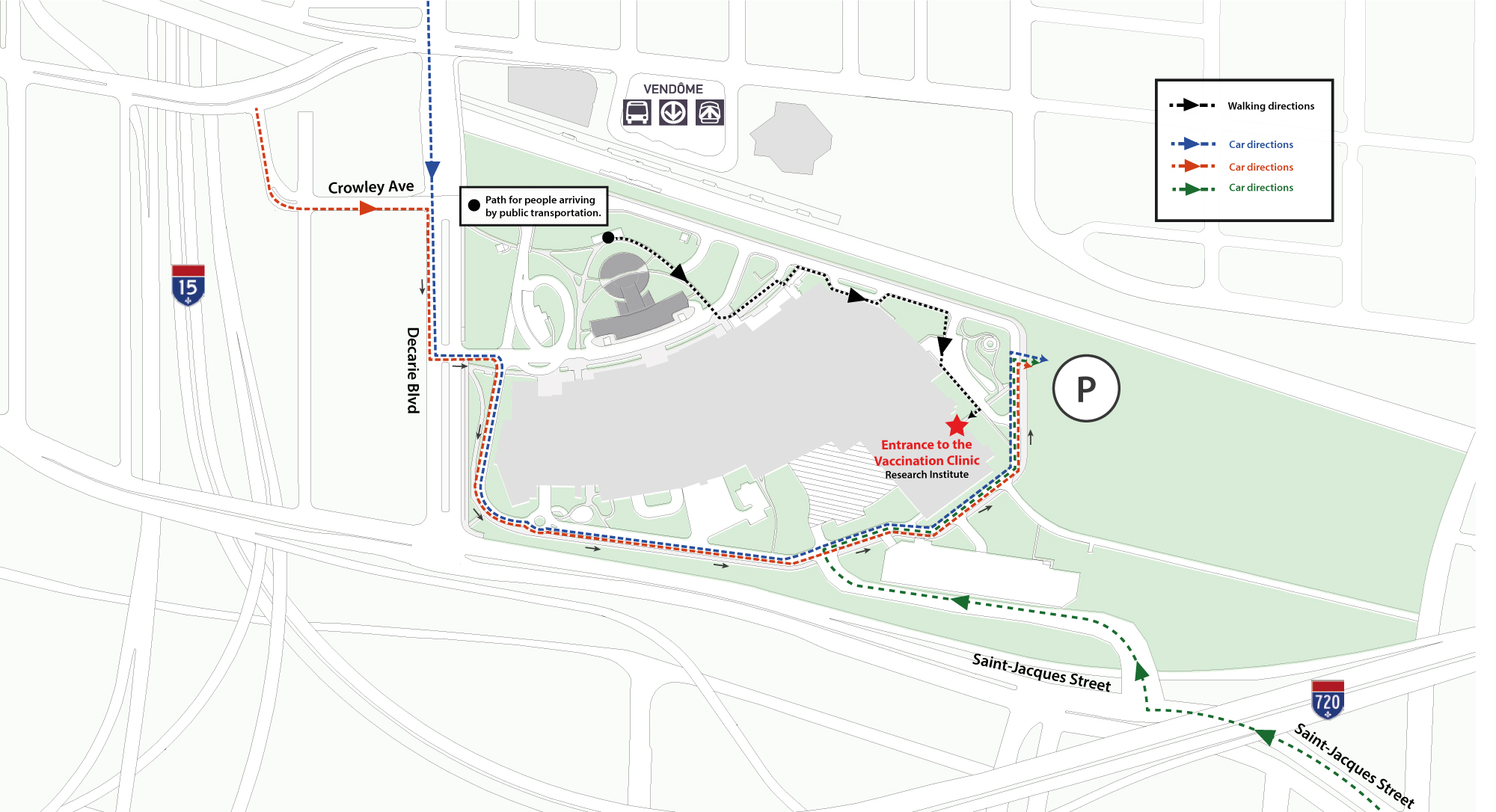 Preparing for your vaccination
Bring your health insurance card or an ID card for identification (if you do not have a health insurance card, you can still get vaccinated) and wear a short sleeve shirt. 
IMPORTANT: If you or your loved one have symptoms before receiving the vaccine, please reschedule your appointment.
Download the information sheet prepared by the ministère de la Santé et des Services sociaux presenting the facts to help you make an informed decision about vaccination against COVID-19.
After your vaccination
You will be instructed to wait 15 minutes in a designated area after receiving the vaccine. Please bring a snack as access to the cafeteria is currently limited. 
Click here for more information about:
At the end of your appointment, please leave the hospital and continue to follow public health guidelines.