The management of secondary immune deficiencies, including HIV/AIDS
The Allergy and Immunology Division has pioneered the management of secondary immune deficiencies, including HIV/AIDS, the most significant acquired immune deficiency in history. The Division provides world class care and treatment, professional training and instruction, and conducts advanced research. It also pioneered a unique "patient focused interdisciplinary care" model and has both a dynamic research agenda and a broad teaching program.
Our centre's HIV/AIDS activities have a distinct immune focus. It is thus in a position to establish the much needed care models in accelerated ageing, and to continue our cutting edge immunologic and metabolic clinical research in this area.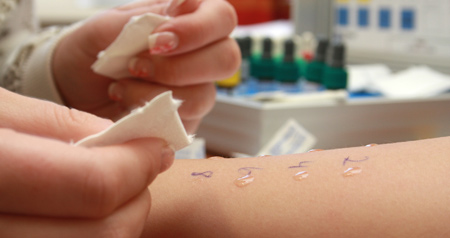 Allergy service
Our dynamic Allergy service offers traditional diagnostic activities and an extensive and innovative invasive allergy program.
Lupus Registry
In Autoimmunity, we have the largest Lupus Registry in Quebec (the second largest in Canada) with a distinguished record in clinical research.
Immune Deficiency Treatment Centre
The MUHC Immune Deficiency Treatment Centre (IDTC), is the only dedicated diagnostic and treatment centre in Canada for adults with inherited and acquired immune defects. It is also the only program with a formal transition from pediatric to adult care, for children with primary immune deficiency.
The Division of Adult Allergy & Clinical Immunology continues to be a leader in Quebec, and Canada, by providing premier clinical activities in:
Invasive Allergy
Autoimmunity
Adult Immune Deficiency
Translational and Interventional Immunology.
The division is one of two Canadian Centres of Excellence to be recognized by the Federation of Clinical Immunology Societies (FOCIS).
Clinics
Glen site – Royal Victoria Hospital
1001 boul. Décarie
Room D2.3311
Montreal, QC, H4A 3J1
Phone: 514 934-8234
 
Montreal General Hospital
1650 Cedar Ave.
Room A6 123
Montreal, QC, H3G 1A4
Phone: 514 934-8036
For appointments: 514 934-8488