The MUHC's Division of Supportive and Palliative Care is a Level 4 supraregional centre of excellence.  This means that we care for patients from across Quebec who are in need of specialized services. 
Our supportive care model ensures that these services meet the physical, psychological, informational and spiritual needs of our patients.
Psychosocial Oncology – Involves a team of psychologists, psychiatrists, social workers and nurses who help patients deal with and overcome their feelings of defeat, anger, sadness, guilt and anxiety
Cancer Pain Clinic – Patients are seen by a team that includes an anesthesiologist, radiation oncologist, palliative care physician, nurse, physiotherapist and occupational therapist 
Rehabilitation (includes McGill Nutrition and Performance Laboratory) – Empowers patients who are experiencing loss of function, fatigue, malnutrition, psychological distress and other symptoms to improve their quality of life
Lymphedema Clinic – The only specialized medical clinic for lymphedema in Quebec and the Atlantic provinces, the clinic provides patients with assessments, consultations and referral services
Palliative Care – Helping patients who need care and treatments for the overall improvement to quality of life from the time of diagnosis throughout the course of the patient's illness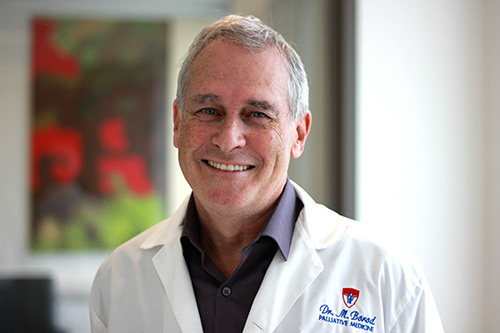 Dr. Manuel Borod, director of the Division of Supportive and Palliative Care
"As leaders in the compassionate treatment of cancer patients, our teams help patients navigate every stage with dignity and respect," said Dr. Manuel Borod, director of the Division of Supportive and Palliative Care.
"From diagnosis, through treatment and the often lengthy followup phases, we are gratified that we can help patients and their families through this difficult period of their lives."