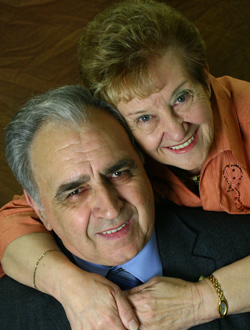 Paul and Jeannine Racette, who have been married for 53 years, have been going to the Lachine Hospital approximately four days a week for the past 15 years. Their diagnosis? They suffer from chronic and incurable generosity. It all started when Mr. Racette, who was visiting a hospitalized cousin, noticed the work of some volunteers, which made him want to get involved too. "At the start, I was coming once a week but I quickly became addicted and I even transmitted this addiction to my wife," he relates. "Also, as I was retired and didn't know what to do, I found a pleasant and constructive way to occupy my free time."
Both Mr. and Mrs. Racette come from families where family values are very important and they bring this to their volunteering work every day. They visit and talk with residents, accompany them out of their room and help with various activities. "We do it as a couple because we like being together and help others at the same time," says Mrs. Racette.
"Volunteering helps us stay young and active," say the couple. "When we sometimes have to be absent and then return, the residents tell us that they've missed us. This is really heart warming," adds Mrs. Racette. "I remember an elderly woman, who was a resident of the Camille-Lefebvre Pavilion for three years, who would never leave her room. Everyday, as I would tour the rooms, I would knock on her door and ask her if she wanted to go out. One day, against all odds, she finally accepted. After that, she started to open up to others, she made some friends and she started to go out of her room everyday. I succeeded in getting her out of her isolation and to improve her life. I am very proud of this accomplishment!" says Mr. Racette.