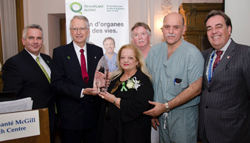 Rosa Shields is both an organ recipient and a dedicated and passionate volunteer, who has spent countless hours over the past two decades raising awareness about organ donation and raising funds for the Multi-organ Transplantation Program at the Royal Victoria Hospital (RVH) of the McGill University Health Centre (MUHC).
In light of Shield's exemplary contribution to organ donation, yesterday she was presented with the prestigious Ambassador Award from Transplant Quebec during a ceremony held at the RVH.
"I'm honoured to have a hand in helping so many people," says Shields. "It's incredibly rewarding to know we're making a difference by raising awareness and much-needed funds to support life-saving transplants at the MUHC."
The award ceremony held special significance as the MUHC has just completed an extraordinary year in the field of transplants. Our surgeons, nurses, and professionals have performed a record 107 kidney transplants in 2013, up 46 per cent from 2012, and a record 49 liver transplants, up 44 per cent from 2012.
Transplant Quebec and hospitals are partners in saving lives. To continue to achieve good results such as these and to even push further for better performance, all Quebec hospitals need to keep working toward improving organ donation by identifying all potential donors in Critical Care Units and in our Emergency Departments.
"We wish to thank Rosa Shields for her unwavering commitment to organ donation," says Normand Rinfret, CEO and director general of the MUHC. "She is an inspiration and she has most definitely contributed to making a difference for many."