MUHC Department of Surgery unveils Michal & Renata Hornstein Career Award for Surgical Excellence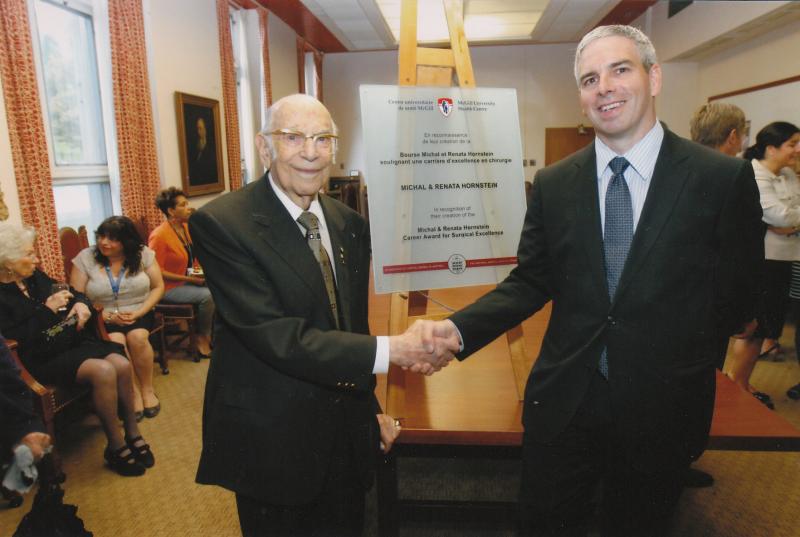 MONTREAL, November 26, 2013 – The Department of Surgery at the McGill University Health Centre (MUHC) is pleased to announce the creation of the Michal & Renata Hornstein Career Award for Surgical Excellence, as well as its first recipient – Dr. Edward Harvey, an internationally respected leader in orthopedic surgery and member of the Level I Trauma Care Team at the Montreal General Hospital.
This unique five-year award is designed to support an outstanding surgeon-scientist who will make a significant contribution to both the department and the field of surgery by undertaking initiatives in research, education or clinical care.
"This new and innovative award is for a surgeon who has demonstrated academic excellence and who has a proven track record," said Dr. Mostafa Elhilali, the Stephen Jarislowsky Chair of Urology at the MUHC and co-creator of the award along with Dr. Gerald Fried, Chair of the Department of Surgery. "Essentially it is taking a rising star and turning him or her into a superstar."
The award is made possible by a $3-million endowment fund created by Michal & Renata Hornstein, exceptional Montreal philanthropists, particularly in the fields of health care, the arts, and education, who approached the Department of Surgery looking for a transformative way to contribute to and improve patient care. The fund is also supported by the Montreal General Hospital Foundation.
"We wanted to make a significant and lasting contribution to the field of Surgery at the MUHC, and we are very pleased with the award that was created to this end," said Michal Hornstein. "I am confident that many great achievements will be made as a result, beginning with Dr. Harvey and continuing for many years."
Dr. Harvey will carry out two research-focused programs that will have a major impact on the care delivered to trauma patients both locally and across the country. Injuries from trauma cost Canadians over $20 billion per year – more than cancer, cardiovascular disease and diabetes.
While the award functions similar to a named chair, it is unique in that a new surgeon-scientist recipient will be selected every five years rather than holding the post indefinitely. The award-holder can come from any discipline within the Department of Surgery.
"A chair, by definition, is typically not musical, as we are doing with this position," said Dr. Elhilali. "But in this way we will be able to draw on a multitude of personalities, specialties and perspectives, in turn leading to a greater variety of innovations that have the potential to greatly impact and improve the lives of patients who require surgery." Trauma surgery remains a priority at the Montreal General Hospital, as it is one of only three tertiary trauma centres in the province.
Dr. Harvey is currently Chief of Orthopedic Trauma at the MUHC, co-director of the Bone Engineering Laboratories at the Montreal General Hospital, and a tenured professor of Surgery at McGill. He will focus on two key initiatives over the next five years: The first, the Canadian Orthopaedic Trauma Network – dubbed 'Bone Net' – will develop a Canadian network of excellence in orthopedic trauma care that is to be based at McGill. It currently represents over 150 investigators across Canada. The second, known as the REPARATION Program, will bring surgeon-scientists who are currently located at various hospital sites to one centralized research centre at the Montreal General Hospital and build a program of excellence in musculoskeletal research and training.
"I am honoured that I was chosen as the inaugural recipient of this award. It will allow a concentration on trauma research that Canada needs going forward," said Dr. Harvey, noting that trauma is a worldwide problem and has been recognized as that by the World Health Organization with the designation of this decade as the Decade of Road Safety.
"There is much work to be done at every level – bench-side research, product innovation and development, clinical research, government policy and trauma processes, as well as advocacy outreach programs," Dr. Harvey added. "This award will allow me to focus energy on expediting the overall program in Canada, building on the solid foundations in some facets of trauma care that have already been laid."