Montreal General Hospital patient, 97, donates $700,000 to diabetes and obesity research fund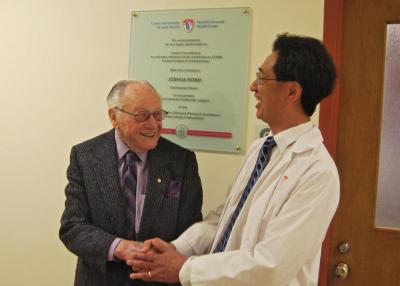 MONTREAL – Joshua Ronn, a 97-year-old patient of the Montreal General Hospital of the McGill University Health Centre (MUHC), has given new meaning to the term "paying it forward" with a generous $700,000 donation towards the Montreal General Hospital Foundation's endowment fund established in support of the Centre of Excellence in Clinical Care and Research in Endocrinology and Metabolism.
Ronn, who has suffered from diabetes for the past 40 years, said he hopes his gift, which is directed at supporting research in diabetes and obesity, will be an inspiration for others to donate and help the fund reach its $15 million-goal. More than $2 million has been raised to date. This fund will be used to assure that the MUHC continues to be a leader in the critical areas of diabetes, affecting 2.4 million Canadians, and obesity, which affects one-in-four Canadians.
"I have received excellent care for my diabetes from the Endocrinology team at the Montreal General Hospital for more than 20 years," said Ronn. "I made this gift because it was clear to me that there is a global epidemic of obesity and diabetes and that we desperately need to make progress in our research in these areas. In the remaining years of my youth, I have decided to embark on this Canadian project to help make the MUHC a global centre of excellence in research in these critical health problems for our society."
Ronn's humble beginnings began growing up in a family of nine children in Czechoslovakia. During the war, he spent time in a labour camp and six months in a detention camp before immigrating to Canada in 1950. He settled in Montreal where he established a successful textile company. At 97, he continues to go to the office every day, working on his latest business venture as well as drumming up support for this Centre of Excellence.
He first walked through the doors of the Montreal General Hospital more than 20 years ago to treat his Type 2 diabetes, and developed a long-standing relationship with the hospital and its staff. "I am really grateful to the Montreal General Hospital and the doctors who looked after me so well. I cannot pay back the people who helped me because they are not around anymore, so instead I'm focusing on doing good things for others to pay back my debts to people from the past."
Dr. Jacques How, a senior endocrinologist at the Montreal General Hospital and Ronn's doctor for the past two decades, called the gift "monumental" and one that embodies Ronn's compassion and generosity. "It has been a pleasure to have known Mr. Ronn for all these years, as his doctor but also as his friend. He has been actively involved in our fundraising efforts from the start, and an inspiration to all of us at the Montreal General Hospital, not only for his generosity, but his enthusiasm for our work."
Dr. Mark Sherman, interim director of the Division of Endocrinology and Metabolism, said this contribution to the endowment fund brings it one step closer to ensuring the long term success of the Centre of Excellence in Clinical Care and Research in Endocrinology and Metabolism. He noted that the research on diabetes and obesity will yield findings that have implications for other diseases as well. "Diabetes and obesity are major causes of heart disease, kidney disease, eye disease and cancer, and so any research that can help prevent or better treat diabetes will also help prevent these other devastating conditions," he said.
"The MUHC has over 80 years of history of world-class excellence in research in hormones and this endowment is essential in helping us build on that expertise in order to improve the quality of life for patients suffering from these important health problems," added Dr. Vassilios Papadopoulos, executive director of the Research Institute of the MUHC (RI-MUHC) and a researcher in the Endocrinology Division. "This new centre of excellence fits perfectly with the mandate of the RI-MUHC, which has more than 50 people conducting research on these critical health issues."
- 30 -
For more information
Rachel Hawes
514 934-1934, 71226
rachel [dot] hawes [at] muhc [dot] mcgill [dot] ca