Mental Health Mission rallies behind fundraiser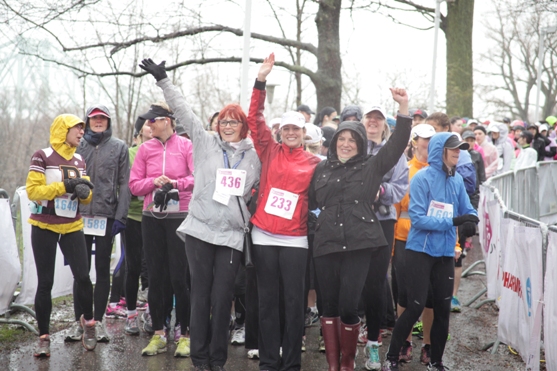 Every day, close to 500,000 Canadians miss work due to a form of mental illness, and women are two times more likely to suffer from depression than men. On May 4, over 625 people took part in Montreal's first Course Pharmaprix pour les FEMMES at Parc Jean-Drapeau in support of women's mental health at the MUHC. Montreal was the 2nd stop in a series of 10 races across Canada to help bring awareness to the cause.
Funds raised in each race city support research, treatment, and programs related to women's mental illnesses. Thanks to the groundwork laid by the MUHC Foundation, the Mental Health Mission was selected by Pharmaprix as the beneficiary of the funds from the Montreal race.
Leading the fundraising effort and "Team MUHC" was Dr. Nadia Szkrumelak, medical director of the Mental Health Mission. She recruited just about everyone she knew to support the event, from her hairdresser to her yoga studio.
"We're very happy because this was a largely grassroots event and it brought people together who wanted to help us move forward," she explained. MUHC payroll employee Josie Preteroti raised $700 alone, but without a doubt, the biggest cheerleader was Rachel Abugov, administrative agent to the Outpatient Department of the Mental Health Mission.
It was Abugov who gathered support among staff through her weekly department newsletter, and who organized several fundraising events, including a benefit concert at Katacombes bar in which she recruited her son's punk band, among others.
"We're an example that every little bit counts," said Abugov. "And it was awesome to have the personal connection behind the cause. Everyone from friends and family and colleagues really rallied together."
Dr. Szkrumelak says that beyond the money raised, the event helped to educate the public and gain a better understanding of the struggles faced by those dealing with mental illness. She is already starting to plan next year's edition, and looks forward to continuing her efforts to break the "stigma" associated with mental health.
For more information or to learn more about the run/walk, visit runforwomen.ca.