CIBC 401 Bike Challenge Raises More Than $330,000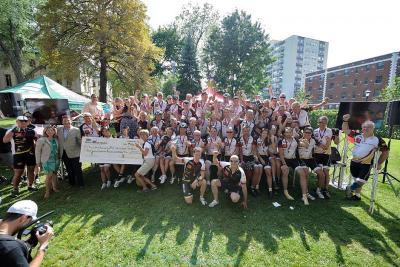 Cyclists celebrate completing the 576-km ride from Toronto to Montreal as part of the CIBC 401 Bike Challenge on Friday, August 8.

Fifty cyclists left Toronto on Wednesday, August 6 and made their way down Highway 401 as they embarked on the 10th annual CIBC 401 Bike Challenge that raised more than $330,000 to support children with cancer.
Another 20 cyclists joined them in Cornwall on Friday, August 8 for the final leg of the journey to Montreal before arriving at Dawson College. The carnival-like arrival event featured food trucks, music and entertainment.
On hand for this 10th anniversary event was Phil Liggett, universally known as "The Voice of Cycling".
The CIBC 401 Bike Challenge also celebrated another special milestone – nearly $1.5 million raised since its inception. The proceeds go to the CIBC 401 Bike Challenge, an initiative of the Piccoli Family Fund in support of Sarah's Fund at the Cedars Cancer Foundation and benefits the Montreal Children's Hospital.
For 10 years the CIBC 401 Bike Challenge has helped build Sarah's Floor – the Hematology-Oncology inpatient Unit – in the current facility, and also in the new Children's Hospital to open its doors in the spring of 2015. Named after Sarah Cook, "Sarah's Floor" is the legacy of a strong and courageous young woman and her many supporters; family, friends, and precious donors. The CIBC 401 Bike Challenge has helped the Division of Hematology-Oncology to offer patient programs and nursing education funds that have a tremendous impact on the treatment, care and recovery of patients.