Cedars Cancer Institute's Festival of Divine Wine Raises $46,000 for Sarcoma Cancer Patients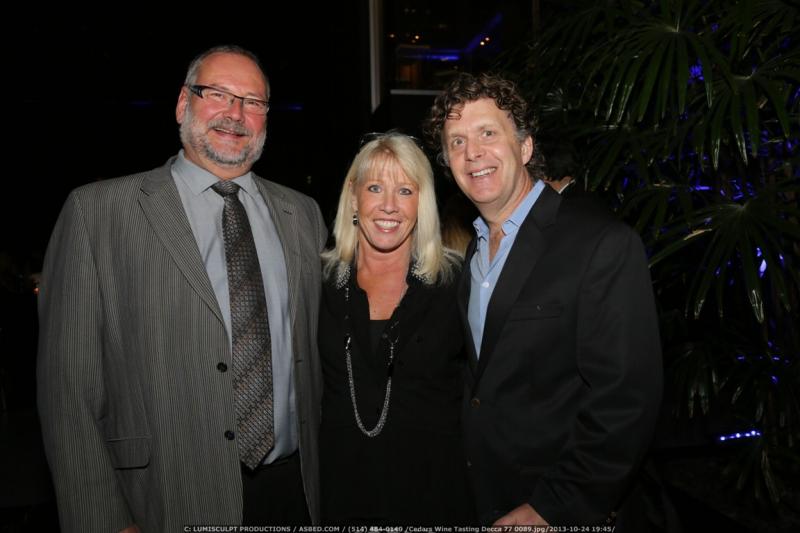 The Cedars Cancer Institute held its second annual Festival of Divine Wine and Food on Thursday, October 24, raising $46,000 and counting to support sarcoma cancer care, research and education at the MUHC. Pictured are Dr. Robert Turcotte, medical director of the MUHC's sarcoma program, his former patient Rose Muhr, and CJAD 800 morning host and Cedars board member Andrew Carter. Photo credit: Asbed.com

MONTREAL, October 28, 2013 – Some of Bordeaux's finest wines were sampled at the Cedars Cancer Institute's second annual Festival of Divine Wine and Food on Thursday, October 24, which raised $46,000 and counting to support sarcoma cancer care, research and education at the MUHC.
The fundraiser was held at Decca77 where guests were treated to a selection of 10 different Bordeaux wines donated by the SAQ, each complemented with specially selected gourmet canapés.
"All of us at the MUHC's sarcoma program are grateful to the Cedars Cancer Institute for organizing this fundraiser, and to those who attended and donated for helping us provide the best care to patients with this cancer that attacks the body's connective tissue," said Dr. Robert Turcotte, medical director of the MUHC's sarcoma program. "Funding from events such as this one allows our team of specialists to continue making breakthroughs in research that can have life-changing impacts on sarcoma patients."
Jeff Shamie, director general of the Cedars Cancer Institute, added "It is vitally important that we support patients suffering from all forms of cancer, including those that are extremely rare."
Sarcomas are invasive tumours that can arise in muscle, bones, nerves, fat and blood vessels and are seen at all ages from birth to elderly adulthood.
The MUHC has the only provincially designated supraregional sarcoma program in Quebec, providing sarcoma patients with the complex care that they need.
- 30 -
For more information
Sandra Sciangula
Office: 514 934-1934, ext. 71228
sandra [dot] sciangula [at] muhc [dot] mcgill [dot] ca