Breakfast at Barbie's event raises $37,500 for the Lachine Hospital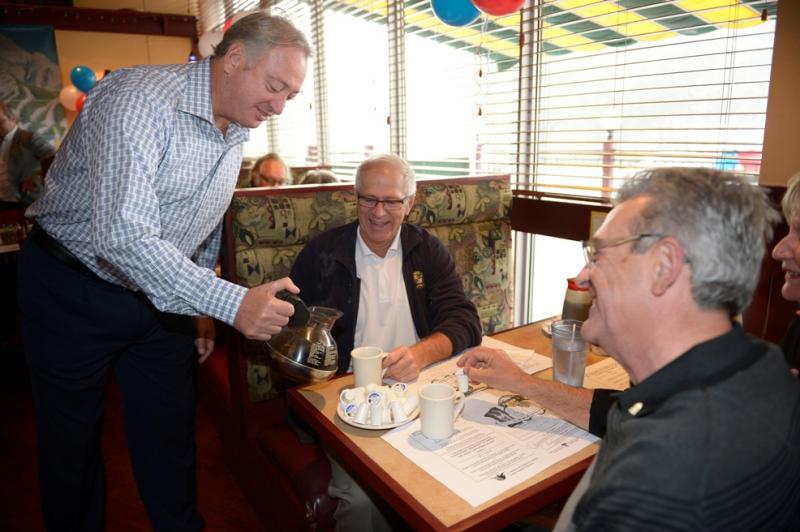 Lachine mayor Claude Dauphin serves coffee to Dorval mayor Edgar Rouleau and other customers at the third annual Breakfast at Barbie's fundraiser to help mark the centenary of the Lachine Hospital.

LACHINE, October 1, 2013 - The staff at Barbie's Bar & Grill in Dorval was busy serving up a heaping of eggs, bacon and home fries with a side of community spirit on Saturday morning at the third annual Breakfast at Barbie's fundraiser in support of the Lachine Hospital.
This year's event was a special centennial edition to help celebrate 100 years of the Lachine Hospital. It was organized by the Lachine Hospital Foundation and raised more than $37,500.
"This wonderful fundraiser continues to grow in popularity each year and I want to thank all those who came out for a delicious breakfast for making it a success once again," said Jacques Filion, chairman of the Lachine Hospital Foundation's board of directors. "The communities of Lachine and Dorval have been behind the Lachine Hospital for the past century and, with the help of this project to expand and modernize the hospital, we look forward to serving the community for at least another 100 years."
The Lachine Hospital Foundation has already raised $2.7 million towards the hospital's Redevelopment Project, which includes nearly twice as many beds, a refitted and re-equipped Emergency Department and specialized equipment.
The Breakfast at Barbie's fundraiser has received much support from community leaders since it began in 2011. Dorval mayor Edgar Rouleau and Lachine mayor Claude Dauphin were both once again on hand to enjoy the breakfast on Saturday.
"I continue to take great pride in our community after seeing the outpouring of support for local fundraising events such as this one," said Mayor Dauphin.
Tickets can still be purchased and redeemed until January 31, 2014, not including Sundays. For more information, please call 514 637-2351, 77333.