The Royal Victoria Hospital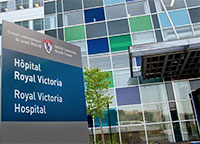 Royal Victoria Hospital
1001 Blvd. Decarie
Montreal, QC
Canada 
H4A 3J1
514 934-1934
Founded in 1893, the Royal Victoria Hospital has moved sites after 122 years of service on Mount Royal. It now operates in the new MUHC Glen site, where it continues to offer medical care, an adult emergency department, as well as a wide range of highly specialized clinical services in a brand-new facility.

Find out where your clinic is now located at the new Royal Victoria Hospital at the Glen site by clicking here.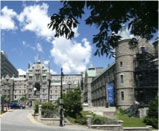 The FORMER Royal Victoria Hospital
687 Pine Avenue West
Montreal, Quebec H3A 1A1
Please note: access to the building is highly restricted and controlled following the hospital move to the Glen Site. Only authorized staff and patients from the following clinics will continue to be allowed access on the premises.
MUHC Reproductive Centre
This clinic has moved to the following address:
Place Dupuis
888 de Maisonneuve Boulevard East, Suite 200, Montreal
Open: Monday to Friday from 7:00 a.m. to 4:30 p.m.
Contact: 514-843-1650
Access by public transportation: Berri-UQAM metro station; Place Dupuis is connected to Berri-UQAM station
Access by car: parking is available on adjacent streets
Royal Victoria Hospital