Continuous Improvement
Our commitment to patient safety and error reduction is reflected by comprehensive, multi-level approaches to continuous quality improvement that engage healthcare consumers, physicians and staff throughout the MUHC. We do this by:
Adopting evidence-based management and leadership practices
Maximizing the capability of our workforce through staff development
Designing work processes and workspace to reduce error & waste
Creating and sustaining a culture of safety
Engaging healthcare consumers in the planning, delivery and evaluation of care delivery
Quality improvement is occurring at all levels of the MUHC. The following is an example of going work:
Patients and Staff Partnering to Transform Care at the Bedside
In 2010, the MUHC partnered with the Institute for Healthcare Improvement (IHI) in Boston, to launch an innovative program, Transforming Care at the Bedside (TCAB). Our aims are threefold:
to understand care "thru eyes of patients"
to deeply engage patients and staff in co-creating and testing new work processes to improve the quality of care and work environment
to increase registered nurse time spent in direct care
The TCAB program engages the hearts and minds of frontline staff in leading process improvement efforts, but at the MUHC we have chosen to directly engage patients in this redesign work, along with staff. Using an "action learning" approach with structured modules, patient representatives meet for a full day once a week with inter-professional teams on inpatient units, learning rapid cycle improvement processes.
New ideas are tested on a small scale, evaluating the outcomes with pre and post measurements, one patient, one room, or one shift at a time, and then teams evaluate which changes to adopt, adapt or abandon based on the outcomes.
Results to-date: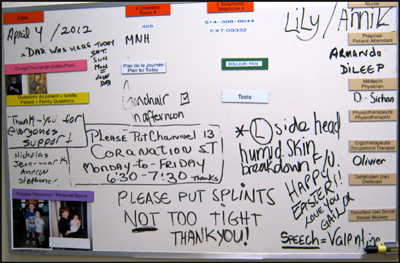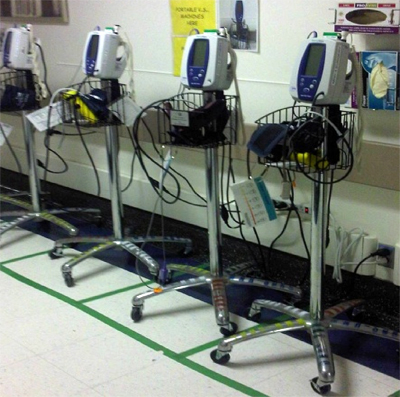 8% increase in registered nurse time in direct care

20% improvement in patient ratings of "responsiveness"

Whiteboards introduced at each bedside provide two-way communication between patients, family members and staff regarding the plan of care, names of care providers, reminders and estimated date of discharge.

Introduction of a Quiet Zone for medication administration resulted in a 50 % reduction in interruptions and 60% reduction in transcription errors.

Equipment re-location significantly reduced hunting and gathering time and eliminated test cancellations related to lack of transport wheelchairs.

Patient and staff redesigned a chemotherapy treatment room, reducing the time to start chemotherapy by 57 %.

Implementation of a joint inter-professional admission process in mental health reduced the admission time from 4.3 to 1 hour, eliminating duplication, improving team communication and cross- discipline learning.

Significant reduction in RN turnover and overtime on TCAB units

High rates of staff satisfaction & union support

Building capacity of frontline staff and patients to improve outcomes by developing their leadership, process mapping, work re-organization and LEAN competencies

Making a difference with our PAINFREE Initiative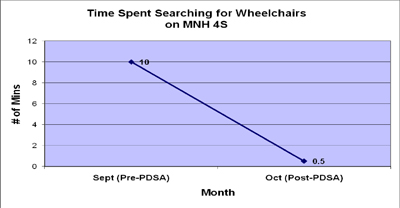 Support for this ongoing initiative has come from: the Quebec Ministry of Health and Social Affairs, the Cana