A smoother ride for MUHC patients
The improved MUHC medical transportation service does more than taking patients from site to site
A new van and improved client service is making travel between sites a more comfortable experience for MUHC patients.
The vehicle purchased thanks to a generous donation of the Morris and Bella Fainman Family Foundation has been on the road for a year and over that time has helped improve the patient experience and reduce the use of Van Medic's taxi service and emergency ambulances, a very busy and very expensive service for the hospital.
Émilie Demers, formerly an intensive care nurse at the Montreal General Hospital, not only leads the initiative but also accompanies patients on their travels. She is also the resource person responsible for the logistics, management and development of the MUHC's Adult Medical Transportation Service. "As with any new project, we had to start from scratch and build the basics. From the beginning, I saw the possibilities and I had fun jumping in, "says Émilie.
The Ford Transit 250, which can accommodate a stretcher, carries one patient at a time plus a nurse and up to two members of the patient's family. Oxygen can be administered to the patient if needed. The service is for patients whose health status is stable and who require nursing supervision to attend appointments or treatments.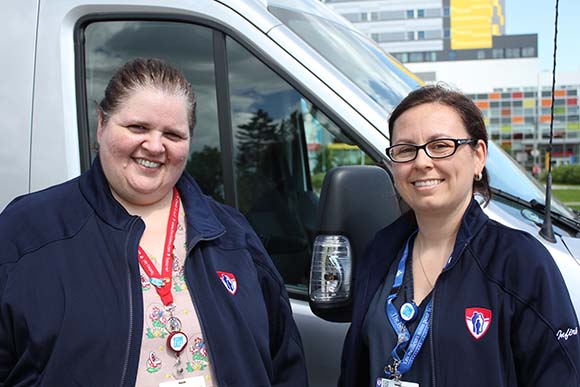 The van runs from Monday to Friday between 7 am and 3 pm and carries out three to four transports a day. The service shuttles between the Neuro, the Glen Site, the Lachine Hospital and the Montreal General Hospital.
 According to John Theo, MUHC patient transportation operations manager, the service reduced the average transit time to less than an hour.
"The goal is to provide the best care and the best possible experience for patients. Ambulance wait times can be as long as six hours, which is far from ideal for recurring appointments," he explains. A more efficient transportation service means fewer missed appointments and a more consistent treatment of patients, which means less anxiety and frustration for them."
A human approach
Providing a good inter-site patient transportation service is not just about picking up and dropping off patients. Émilie begins her day by checking if any units have reserved their service with the Logitrans program. When she has to take a patient, she contacts their nurse to learn about their condition, needs, constraints and other important details.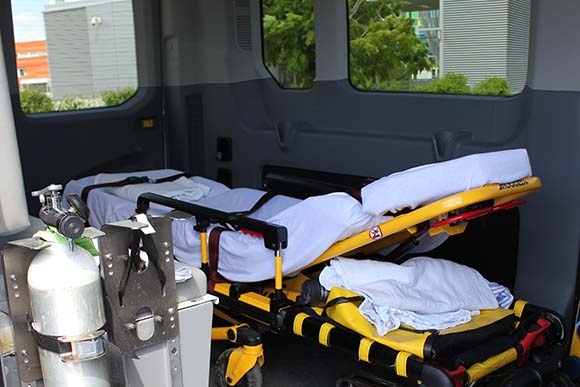 Having spent nine years of her nursing career in the intensive care unit, Émilie not only knows how to keep patients safe, but also how to comfort them. She develops a rapport with them, especially when she accompanies them multiple times.
Lyne Mainville, a transportation nurse for the Montreal Children's Hospital for 14 years, shared her expertise with Émilie to prepare her for this new role.
"Lyne worked in pediatric transportation a few years and changed it over time, " says Émilie. When she created the MUHC Adult Transportation Nurse position, she shared her expertise so that we could provide excellent service.
Once on the road, Émilie connects with all the units concerned. She notes the length of the trips and keeps a log that compiles statistics to optimize the service.
Furthermore, she consults the various managers, team leaders and hospital staff, and collaborates with the multidisciplinary teams of each site to refine the service and better meet their needs.
Would you like to communicate with the MUHC medical transportation service? Contact Émilie Demers at 514-358-9148.