MUHC Medical Expert - Dr. Genevieve Chaput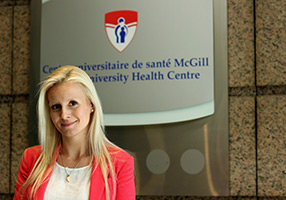 Dr Genevieve Chaput is an attending physician at the McGill University Health Centre. She is head of the MUHC Cancer Survivorship Program, which includes both clinical and educational interventions to optimize the care of people with a cancer history. Dr. Chaput has pioneered MAINPRO-accredited sessions to educate community primary care providers on survivorship issues and surveillance needs. She is also actively involved in improving patient awareness through educational activities.

Genevieve completed a Masters degree in Health Professions' Education (2012) and a Fellowship in cancer support and palliative medicine (2013) at McGill University. Her main research interests are focused on evaluating survivorship education projects targeting primary care providers and patients. Her survivorship initiatives have been rewarded with institutional foundation awards for the past 3 years.

Dr Chaput is a member of the Cancer Care Program committee of the College of Family Physicians of Canada, and the Comité National de l'évolution de la pratique de première ligne of the Direction Québécoise de Cancérologie. She has also also recently joined the Canadian Partnership Against Cancer's Primary Care working group.

Keywords: Cancer survivorship care, cancer support, education, knowledge translation and research, and palliative medicine.
Languages: French and English

Contact:
If you wish to contact Dr. Chaput for an interview, please contact the MUHC media relations team in the Office of Public Affairs and Strategic planning at tel #: 514-843-1560, or email: public [dot] affairs [at] muhc [dot] mcgill [dot] ca during office hours (9 a.m. to 5 p.m.).
If this is an urgent request after office hours, or on weekends and statutory holidays, please contact the MUHC main number at tel #: 514-934-1934 and ask the operator for the media relations person on-call.
* Message to MUHC medical experts: if you wish to join our media experts list, please e-mail public [dot] affairs [at] muhc [dot] mcgill [dot] ca