MUHC Medical Expert - Dr. Dick Menzies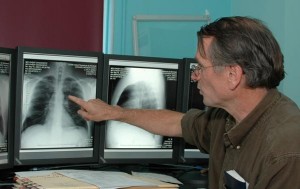 Dr. Dick Menzies is a professor of Medicine & Epidemiology & Biostatistics at McGill University, Chief of the Respiratory Division, past Director of the Respiratory Epidemiology Unit, and past medical director of the Montreal Chest Institute.
Dr. Menzies is an expert on many aspects of epidemiology, diagnosis and treatment of tuberculosis, including drug resistant TB. His research is conducted in Montreal as well as across Canada, and internationally, and is supported by the Canadian Institutes of Health Research (CIHR), the World Health Organization (WHO), the International Union against TB, and USAID. Dr. Menzies serves or has served on advisory committees of the Public Health Agency of Canada, Citizenship and Immigration Canada, the Centres for Disease control (USA), and the WHO. In addition he is the chair of the TB committee of the Canadian Thoracic Society, and editor of the 7th edition of the Canadian TB Standards.

Keywords: respiratory diseases, tuberculosis, international health, MDR-TB, XDR-TBvaccine immunology, vaccine adverse events, diagnostic and clinical parasitology.
Additional information:
Media links:
muhc.ca/ar2009/page/going-face-face-tuberculosis

Contact:
If you wish to contact Dr. Menzies for an interview, please contact the MUHC media relations team in the Office of Public Affairs and Strategic planning at tel #: 514-843-1560, or email: public [dot] affairs [at] muhc [dot] mcgill [dot] ca during office hours (9 a.m. to 5 p.m.).
If this is an urgent request after office hours, or on weekends and statutory holidays, please contact the MUHC main number at tel #: 514-934-1934 and ask the operator for the media relations person on-call.
* Message to MUHC medical experts: if you wish to join our media experts list, please e-mail public [dot] affairs [at] muhc [dot] mcgill [dot] ca