MUHC Expert - Imma Franco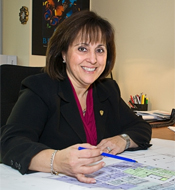 Imma Franco, Associate Director for Planning of Programs and Services at the McGill University Health Centre (MUHC)
Imma Franco is responsible for the overall coordination and organization of programs and services, including clinical care, teaching and research activities that are planned for the New MUHC.
Ms. Franco has worked in the healthcare system for over 20 years. Prior to joining the Planning Team, she was the Manager of the Respiratory Medicine and Respiratory Therapy Service at the Montreal Children's Hospital since 1991.
Imma Franco has been playing an instrumental role in the redevelopment of the MUHC, ensuring that patients' needs are at the heart of our modernization and that clinicians and professionals actively participate in the planning process.
Keywords: redevelopment, healthcare design, modernization, functional and operational planning, healthcare systems, space programming, project management, health care transformation, New MUHC.

Contact:
If you wish to contact Imma Franco for an interview, please contact the MUHC media relations team in the office of Public Affairs and Strategic Planning at tel #: 514-843-1560, oremail: public [dot] affairs [at] muhc [dot] mcgill [dot] ca during office hours (9 a.m. to 5 p.m.).
If this is an urgent request after office hours, or on weekends and statutory holidays, please contact the MUHC main number at tel #: 514-934-1934 and ask the operator for the media relations person on-call.
* Message to MUHC medical experts: if you wish to join our media experts list, please e-mail public [dot] affairs [at] muhc [dot] mcgill [dot] ca