Please click to download the notice from the Ville de Montréal on construction delay.
Work on Avenue des Pins recommences Monday, April 29
The City of Montreal will be continuing its major operations to reconstruct the water and sewage pipes along avenue des Pins, starting April 29 and until the end of the Fall of 2013.
Start date: Monday, April 29, 2013
End date: late Fall 2013
Sequence of work:
Starting Monday, April 29 and until late August, this work will be carried out along avenue des Pins, from the corner of rue Durocher to the corner of avenue du Dr-Penfield. The work will start on the south side of Pine avenue and then on the north side in a few months' time.
The intersections of Durocher, Aylmer and University will be looked after separately and closed in turn.
Traffic obstructions
One westbound lane will be kept open along avenue des Pins; blocked eastbound between Dr-Penfield and Durocher.
Avenue du Dr-Penfield: local traffic for McGill University, the Royal Victoria Hospital and the STM; motorists will have to turn west at avenue des Pins.
Some STM bus routes will have to be modified. Information: STM-INFO (514 786-4636), or see map below.
Traffic slowdowns are expected. Police officers and the contractor's workers will be on hand to ensure safety and a smooth flow of traffic.
Pedestrian sidewalks will be maintained and kept safe on both sides of avenue des Pins; however, they will be partially blocked, one side at a time.
Alternate route
Parc - Sherbrooke - Côte-des-Neiges
Access to Royal Victoria Hospital and The Neuro
All access roads will be maintained; however, some will be closed, when necessary, at certain times.
Other notices will be distributed at the time of these closures.
Parking
While the work is under way, certain restrictions will be enforced on streets in the surrounding area.
For more information, consult the dedicated page for this construction project on the Info-travaux website: www.ville.montreal.qc.ca/chantiers
Please consult the map below.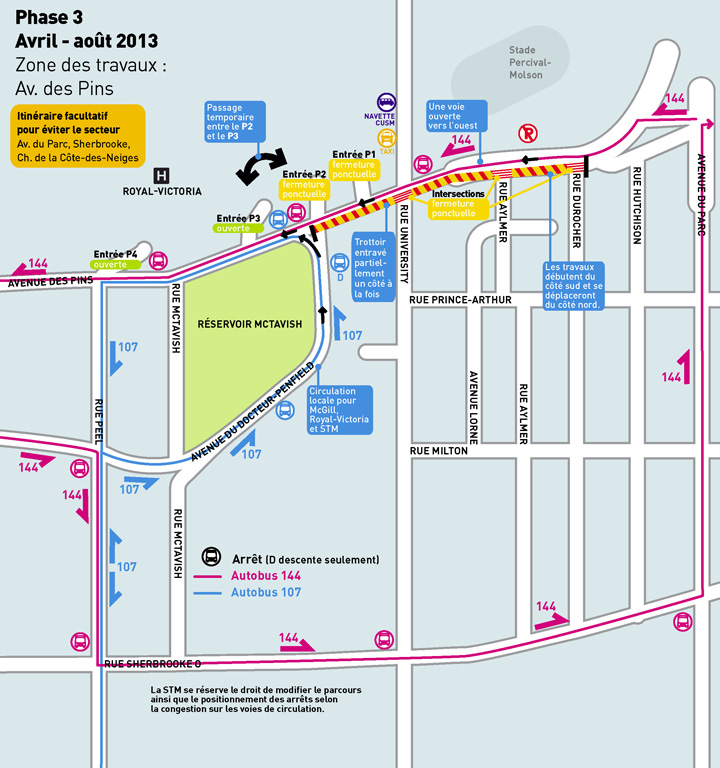 We encourage you to check updates regularly. You can also call the City of Montreal Info-Travaux hotline by dialing 514-872-3777, between 8:30 a.m. and 4:30 p.m. In addition, citizens can join the city's twitter feed at Twitter MTL_circulation.