August 19 is World Humanitarian Day
Josie Preteroti gives back with time, hard work and donations to families in Peru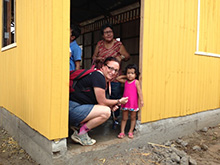 Josie Preteroti
I got involved with the Pure Art Foundation when I met Brigitte McKinnon, Founder of the Pure Art Foundation at her Pure Art Boutique in Westmount, three years ago. I was so impressed with the work she, her husband and their five sons were doing for the people of Peru, in particular, Pucallpa, Peru a town in the Amazon region. So, I decided to get involved in their amazing journey.
My first trip to Peru was in March 2013. During this time I discovered, the Foundation helps 265 sponsored children attend school every year through the ``One School for All`` Program. One of their main mandates is to eradicate poverty through education.
The foundation has built 19 homes, 3 water wells, 3 medical clinics and has sustainable programs, such as the milk initiative to provide nutrition to undernourished children. It also provides sewing machines and supplies to women in the Shipbo Tribe to create beautiful art work and accessories through fair trade practices, empowering women in keeping their culture and providing sustainable income.
When I arrived in Pucallpa, Peru, our mission for the week was to build two homes in the poverty stricken district of Manantay, for two very needy and poor families. We prepared the foundation, put up the tongue and grove walls, nailed them into the structure and painted the homes in a beautiful bright yellow. (The structure and roofs were already there).
As of today, I am a proud sponsor and godmother to a young Peruvian girl. Brigitte told me, "You left your handprint in the heart of a Peruvian child."
This had an impact on me.
I plan to return back to Peru next year with the Foundation.
Josie Preteroti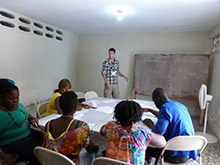 Theoretical teaching
An MUHC audiologist develops his profession in Haiti
"I can't get a job because I can't hear properly. I have three children.'' This citizen of Port-au-
Prince could obviously benefit from audiology services sporadically dispensed by clinicians from abroad, but ideally, appropriate care would be offered on a permanent basis in Haiti, by Haitians.
This is the objective of the mission: "Audiology, Audioprosthesis and Speech-Language
Pathology in Haiti,'' under the umbrella organization, Team Canada Healing Hands, which develops sustainable rehabilitation services in communication sciences in Haiti, without relying on international help.
As part of this mission, François Prévost, Ph.D. and audiologist on adult sites of the MUHC, aims to train technicians in audiometry, audioprosthesis and speech-language pathology by travelling to Haiti two times a year (he travelled there this past spring and will be returning this fall). The long-term goal includes l'École d'orthophonie et d'audiologie de l'Université de Montréal and l'Université d'État d'Haïti working together on settling a university program of audiology and speech-language pathology in Port-au-Prince.
So far, four technicians in audiometry have successfully completed the theoretical and practical training, amongst which two also completed the training in audioprosthesis. They currently work over three locations in Port-au-Prince: l'École St-Vincent pour Enfants Handicapés, l'Hôpital de l'Université d'État d'Haïti and a private clinic of otolaryngology and ophthalmology.
MUHC nurses help enhance critical care nursing skills at Hôpital Universitaire de Mirebalais in Haiti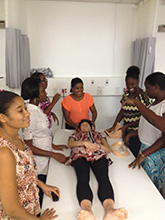 Amy Low and Haitian nurses practice C-spine precautions
In late January 2014, Veronique Fraser, RN MGH ED, Sophie Dussault, RN MGH ED, Sophie Schoen, RN MGH ED and Amy Low, RN RVH ED, travelled from the busy MUHC Emergency Departments to Mirebalais, Haiti. They were invited on behalf of Partners in Health (PIH), an international non-governmental organization (NGO) to help run a "critical care bootcamp" at the recently opened Hôpital Universitaire de Mirebalais (HUM).
PIH is an organization that strives to provide health care to some of the poorest people in the world, and creation of the Hôpital Universitaire has been one step toward realizing this goal. HUM provides treatment and care to patients who previously had little or no access to health services; the ambulatory clinic at the hospital typically sees over 700 patients a day, something that we as ED nurses struggled to wrap our heads around. The hospital also provides high quality education to members of the health professions.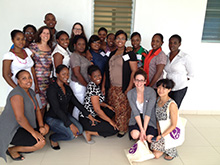 Haitian nurses at HUM along with "bootcamp" instructors: Sophie Dussault, Sophie Schoen, Veronique Fraser and Amy Low
The bootcamp is part of a year-long program designed to prepare nurses to better manage critically ill patients and in anticipation of the opening of the hospital's intensive care unit.
With this educational goal in mind, and at the request of PIH, our ED nurses helped facilitate two one-week teaching sessions covering the basics of critical care and emergency nursing. They emphasized evaluation, assessment and nursing interventions ranging from traumatic injury to cardiac arrhythmias.
"We were greatly impressed by the knowledge, commitment and enthusiasm of the nurses who participated in the bootcamp and we enjoyed learning from the HUM nurses in return," says Veronique Fraser. "We all agree it was a privilege to be able to share in this initiative, and we are grateful to our nursing managers for supporting us with this project."