Women's Health: Keeping children close to their families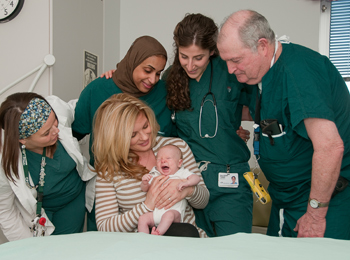 Baby Logan announces his arrival—one of over 3,700 babies born at the MUHC each year: Nurses Marie Pierre Lebreux and Oumalker Mohamed, Dr. Tania Azar and Dr. William Goldsmith with patient Annie DeMelt and baby Logan.
A familiar voice, touch and even scent can bring parents and children a sense of assurance, particularly in a hospital setting.
For parents with newborns at the new Glen site's Birthing Centre and Neonatal Intensive Care Unit (NICU), that irreplaceable closeness will become easier when the Women's Health Mission moves from the Royal Victoria Hospital (RVH). The move will also improve accessibility and services for the range of the Mission's clinics including Colposcopy, Uro-gynecology and Gynecology-Oncology, as well as ultrasound, a blood-drawing clinic and genetic testing services.
Although the Women's Health Mission at the RVH has been serving mothers and their newborns – including newborns in need of special medical attention – extremely well for generations, the locations of clinics and patient rooms across five floors, in two different areas of the hospital has made easy access less than ideal.
The Glen site will be the first hospital in Quebec to combine adult and all pediatric specialties under one roof, positioning the Women's Health Mission directly next to the birthing, neo-natal intensive care (NICU) and post-partum units, ensuring that to get from point 'a' to point 'b'—or, more precisely, from Block C to Block D—will be as easy as walking down a hallway. A new 12-bed nursery will also provide care to newborns requiring treatment but who don't need to be in the NICU.
"It will be such an improvement for our patients and staff," says Angèle Robillard, Nurse Manager of Maternity at the MUHC. Ms. Robillard, along with Assistant Nurse Managers Helen Doulos at the Birthing Centre and Danielle Hone from Gynecology and Obstetrics Clinics, has been working diligently with the Planning Office of the (McGill University Health Centre (MUHC).
The complexities of pregnancy, birth and other unique needs in women's health will be better served on the new site and patients will be readily connected to their multi-disciplinary care teams. For example, the Genetics division which conducts pre-natal diagnosis and a number of other sub-specialties will be closely linked to the Women's Health Mission. "By ensuring that the Women's Health Mission and the neonatal department are in close proximity, we are creating an environment that can handle and help women and newborn babies who have special needs or require critical care," said Dr. Robert Gagnon, Director of Obstetrics and Maternal Foetal Medicine.
This one-stop set-up will create an environment that permits even easier communication between healthcare professionals. In addition, specialized caregivers will no longer need to travel from hospital to hospital, ensuring patients have the care they need in a more efficient and timely manner.
Improved care and collaboration between caregivers are just two of the advantages of having all the departments close to one another - it also means parents can stay close by to their newborns.
Care at the Glen site will be centred on the single-patient room, and newborn babies, like their mothers, will be able to take advantage of this. The neonatal private rooms will be integrated into the post-partum department, giving parents the opportunity to be near their new baby, "Having parents near their children reduces stress and speeds healing," explained Dr. Gagnon. "Encouraging the bond between parents and their children is very important," he added. Single-patient rooms give families the opportunity to have private quality time and allow parents to get to know their child.