Clowning around with fertility
An unusually goofy presence swept through the McGill Reproductive Centre at the Royal Victoria Hospital early Wednesday morning. Sporting the biggest shoes (ever), red noses (de rigueur) and a disarmingly sweet charm, two Israeli medical clowns paid a cheerful visit to the Centre's waiting area. Their aim? To bring a little levity to hopeful couples during an often emotionally and physically challenging time–and perhaps even have a positive impact on the women's fertility treatments.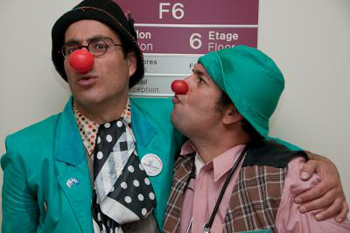 Photo Credit: Loic Pravas Left to right: Fertility clowns Nimrod Eisenberg Jerome Arous stop by MUHC Reproductive Centre
Dr. Hananel Holzer, the centre's medical director, welcomed Nimrod Eisenberg and Jerome Arous, the two medical clowns who were in Canada visiting hospitals in Montreal (The Montreal Children's and Shriner's) and Halifax. "This is as a welcome opportunity to bring warmth and smiles to couples undergoing fertility treatments in the hope of creating or growing their families." 
Though their interactions may bring out the silly in everyone, their training is anything but; both Mr. Arous and Mr. Eisenberg have years of formal academic education in Israel, France and Italy. Their visit comes on the heels of a recent Israeli study published in Fertility and Sterility that noted that women who spent 15 minutes with clowns following an embryonic transfer showed a marked increase in the success rate from 20% to 36% 
The professionalism demonstrated by the clowns belied their kookiness. They were able to detect those couples who might be open to direct interaction and those who might be a bit shy or wary. Their approach was gentle and sensitive.  Jerome and Nimrod do not wear makeup or masks as this allows them to present an honest, undisguised face which can be more easily read by patients. Their clowning comes from within and feeds off the enthusiasm they generate from the people (and staff) in the waiting area. 
Although there are no plans to introduce medical clowns as a regular part of fertility treatments, the friendly chaos, giggles and warm hugs from the clowns did provide many patients some respite. And there was no shortage of people who wanted to their picture taken with the clowns.