Lachine Hospital
As one of Montreal's foremost community hospitals, the McGill University Health Centre's (MUHC) Lachine Hospital will transform patient care with modernized facilities and state-of-the art equipment. When the Redevelopment Project is complete, the Lachine Hospital will have expanded by 30% and most of the hospital will be renovated to offer more spacious facilities and better adjacencies for an easier patient experience, greatly complementing the care offered at the MUHC's two other sites: the Glen and the Montreal General Hospital.
The goal at the Lachine Hospital is to create the modern spaces and infrastructure needed to place it in a better position to fulfill its mission of providing excellence in geriatric medicine, bariatric surgery—as it is one of only two bariatric surgery centres in Quebec—and ophthalmology. At the Lachine Hospital, we will be providing the same exceptional care for our patients and their families in better facilities to meet our community's needs and transform patient care.
Did you know?
The Lachine Hospital is becoming a triple centre of excellence in
Bariatric surgery
Geriatric medicine
Ophthalmology
The Lachine Hospital will house the first open-magnet MRI (magnetic resonance imaging) machine, which can accommodate obese or claustrophobic patients, in the public healthcare system in Quebec.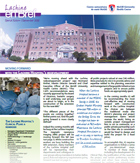 Read the MUHC EnBref Lachine (Special Edition) September, 2012