Construction
Minimally Invasive Surgery Suite adapted for bariatric surgeries
As one of only two Centres of excellence in Bariatric Surgery in Quebec, the Lachine Hospital has been outfitted with a state-of-the-art Minimally Invasive Surgery (MIS) suite, which has been designed to accommodate bariatric patients.
The new suite is equipped with the most sophisticated technology, including the much coveted Olympus laparoscope. This new technology allows doctors to perform laparoscopic surgery, an operation performed in the abdominal or pelvic area through small incisions using a camera. The operating room is also outfitted with telehealth capabilities – allowing surgeons to consult with colleagues during actual procedures, even if they are miles away.
In addition, a patient room with three beds has been adapted to meet the needs of bariatric surgery patients. The Redevelopment Project will see the creation of four single-patient rooms adapted to this patient population's needs, as well as the construction of pre-operation and post-operation clinics for bariatric surgery patients.

Ophthalmology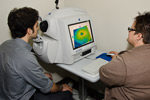 The Lachine Hospital's Department of Ophthalmology is one of the MUHC's many sources of pride thanks to the motivation and dedication of its professionals.
Since 2000, the number of patients treated annually at the department has grown from 5,900 to nearly 15,000—an increase of over 150%! The number of cataract surgeries has also tripled in 10 years, with a goal of 6,000 surgeries for 2012, making the Lachine Hospital an undisputed centre of excellence in ophthalmology.
To keep up with demand, the department acquired cutting-edge equipment in 2010. For example, they now have an OCT (Optical Coherence Tomography) scanner, which creates truly detailed images of the eye, along with a tonometer/keratometer, a device that combines two exams in one and allows doctors to detect severe eye pathologies at an earlier stage. This equipment allows the team to treat more patients and provide more accurate diagnoses in a shorter timeframe. In addition to the new equipment, the department's reception area was renovated to double its capacity. Wait times have been reduced, patients are satisfied, and the pressure on staff has been alleviated.