Pediatric Medicine
Welcome, support and respect for each infant, child, teenager and family member.
Facts about the MCH
approximately 300 physicians and surgeons, 500 nurses and 1,500 allied health professionals work at the MCH
over 200,000 patient visits per year, including:

6,000 patients admitted to the hospital.
70,000 patient visits the Emergency Room, making it the busiest pediatric ER in North America
115,000 visits to more than 70 outpatient clinics and programs
5,000 visits to Intensive Ambulatory Care
5,900 operations, including day surgeries

interpreter services are available in over 40 languages
To see the
Montreal Children's Hospital Departments
,
click here
.
The Montreal Children's Hospital (MCH), the pediatric hospital of the McGill University Health Centre (MUHC), is a tertiary and quaternary care teaching and research facility, treating infants, children and teens up to age 18 in need of highly specialized care.
The hospital's expertise includes programs in brain development and behaviour, cardiovascular sciences, critical care, medical genetics and oncology, tertiary medical and surgical services, and trauma care. The MCH is a fully accredited tertiary care Pediatric and Adolescent Trauma Centre and Neurotrauma Centre of Expertise.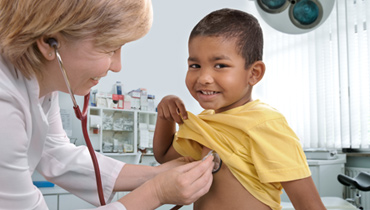 The MCH opened in 1904, making it the first pediatric hospital in Quebec. Our vision is to be a world-renowned children's hospital devoted to putting the needs of Quebec children and their families first and respecting the language and cultural sensitivities of those we serve.
Our doctors, nurses and staff consider themselves part of a patient's family. We welcome, support and respect each infant, child, teenager and family member who comes through our doors. Parents are partners in care and by working together we can provide every child with the medical attention they deserve.