Nephrology
Clinical support for kidney and electrolyte disorders, hypertension, dialysis, and kidney transplantation.
Programs:
General Nephrology and Nephrology Specialty Clinics
Advanced chronic kidney disease and pre-dialysis
Kidney stones
Complex hypertension
Systemic lupus erythematosus and kidney disease
Kidney disease in pregnancy
Pediatric to adult kidney disease transition care
Renal failure in native populations
Kidney biopsy
Hospital Hemodialysis
Acute, conventional, on-line hemodiafiltration
Hemodialysis exercice program
Continuous renal replacement therapy
Vascular access planning
Home Dialysis
Noctural home hemodialysis
Peritoneal dialysis
Peritoneoscopic insertion of peritoneal dialysis catheters
Satellite Hemodialysis and TeleNephrology
Kidney Transplantation
Pre-transplant evaluation
Peri-transplant management
Long-term follow up
Allograft biopsy
Evaluation of donors
Paired exchange
Recipient desensitization protocols
Also see: nephrology.mcgill.ca
The McGill University Health Centre (MUHC) Nephrology Division was among the first in Canada to provide acute hemodialysis, to establish one of the first comprehensive Nephrology laboratories, and to establish the first cadaveric kidney transplant program in Canada. Some of the key research accomplishments include seminal studies into the mechanisms of sodium handling by the kidney and ascites formation in liver failure, as well as mineral metabolism. Members of the Division were involved in important studies in areas of dialysis, including entry criteria into dialysis and pathogenesis of cardiac dysfunction in end stage kidney disease.
In more recent years, the Division has provided a full spectrum of clinical services in nephrology, dialysis and transplantation.
Members of the Division have been involved in innovative aspects of dialysis care, including:
self-care dialysis
home nocturnal hemodialysis
hemodiafiltration
telenephrology
implementation of a hemodialysis exercise program.
Nephrology runs several multidisciplinary specialty clinics in the areas of:
pre-dialysis
kidney stones
lupus nephritis
hypertension
pregnancy
pediatric to adult transition care.
There is an active kidney and kidney-pancreas transplant program that emphasizes living-related kidney donation.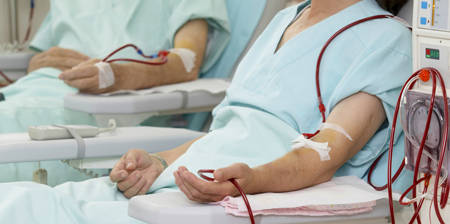 Basic research focuses on epithelial cell biology and defining mechanisms of immune glomerular cell injury that lead to proteinuria and kidney failure. The clinical research themes include development of models towards secondary prevention of chronic kidney disease in high-risk populations, management of anemia and cardiovascular disease in the dialysis population, biomarkers of chronic kidney disease and transplant kidney function, outcomes in kidney transplantation, and development of immunosuppressive protocols in kidney transplantation.
By emphasizing steady advancement in basic and clinical sciences, development of innovative clinical practice methods, including multi-disciplinary approaches and solid teaching, the Nephrology Division contributes to the role of the MUHC as a major academic health centre.