Surgery
The patient's experience receives special attention.
The effort to ensure best possible outcomes for our patients requires a planned program that starts before surgery and continues through the hospitalization and after discharge. With the Surgical Recovery (SURE) program, patients learn about steps they can take before surgery to improve their own preparation, and how to manage their recovery after operations. Their programs are individually customized by the health care professionals specialized to optimal perioperative care.
The Cedars Cancer Institute's interactive Patient Education Office website is invaluable for those awaiting cancer surgery, and a library of guides is available at the Health Education Collection.
New developments in surgery, with dramatic benefits to patients.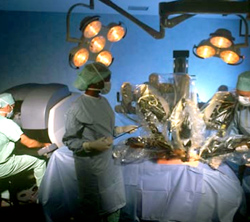 MUHC surgeons have been at the forefront since 1912, when Dr. E. Archibald pioneered thoracoplasty for the surgical treatment of TB, at the Royal Victoria Hospital. Dr. Norman Bethune invented and perfected numerous surgical instruments. In 1958, Dr. John Dossetor pioneered Canada's first successful kidney transplant between identical twins, at the Royal Victoria Hospital.
Recent years have seen new developments in surgery, as minimally invasive (MIS) procedures increasingly take the place of open surgeries. MIS brings dramatic benefits to patients, notably reduced stress on the human system and accelerated recovery. The MUHC is a leader in applying and evaluating endoscopic and minimally invasive therapies, and preparing surgeons from all over the world to practice these techniques safely. Our surgeons have been at the forefront in the development and use of surgical simulation to train surgeons in this field. They have also adopted advanced robotic techniques in the practice of urology and gynecology.
The Montreal General Hospital's Trauma Centre is staffed 24 hours a day by trauma surgeons, anesthesiologists, specially trained emergency medicine specialists, and trauma nurses. On-call consultants from orthopedics, neurosurgery, plastic surgery and other vital support services are available at all times. This ability to provide timely coordinated care by an array of medical and surgical specialists is instrumental in providing the trauma patient with optimal care.
The MUHC Surgical Mission also provides an important educational role in the community and internationally. With its accredited residency programs, the Surgical Mission provides academic surgeons and future leaders for Canada and the world. Its innovative Surgeon-Scientist program is recognized as exceptional in North America. The de Kuyper Centre for Medical Education, is closely linked to the Steinberg-Bernstein centre for Minimally Invasive Surgery at the MGH.
Divisions, Departments and Programs