Endocrinology and Metabolism
The body's chemical and physical systems for processing energy.
Programs
Antenatal Diabetes
Bone and Mineral Metabolism
Diabetes (Metabolic Day Centre)
Insulin Pump Program
Lipid Metabolism
Neuroendocrinology/Endocrine Tumours
Nutrition Support Service and Home TPN
Reproductive Endocrinology
Thyroid Disease and Thyroid Cancer
The Division of Endocrinology and Metabolism at the McGill University Health Centre (MUHC) has a global reputation for excellence and continues to be at the forefront of endocrine research. It has published widely-respected research on gene identification.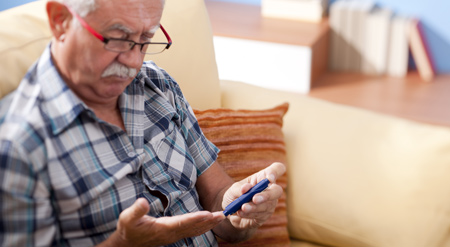 MUHC initiatives
The Division's clinical services have stimulated many other important initiatives at the MUHC:
management of diabetes and osteoporosis in transplant patients
endocrine evaluation of infertile couples planning to use in vitro fertilization
management of diabetes in oncology
neurosurgical patients treated with high doses of glucocorticoids
total

parenteral nutrition

services
Research and Education
The Division's clinical expertise is recognized by its role in authoring commonly used educational resources, including clinical practice guidelines in the treatment of Diabetes, Osteoporosis, the Diagnosis of Hypocalcemia and The Primer on Metabolic Bone Diseases. Its high-level clinical care, in conjunction with advanced research, provides a superior educational environment.
The integration of clinical expertise with the Division's large collection of laboratory data will aid the prediction of complications in individual patients. This will also allow the personalized treatment of endocrine and metabolic disorders. These advances will form the basis for making the MUHC a global leader in systems medicine.