The the McGill University Health Centre (MUHC) Emergency Departments (ED) at the Royal Victoria Hospital (RVH) and the Montreal General Hospital (MGH) provide emergency care to patients from the Montreal region. Together they offer consultation services to other Emergency Departments in our integrated university health network (RUIS)*.The Emergency Department is sometimes the patient's first experience of the MUHC.
Emergency and Trauma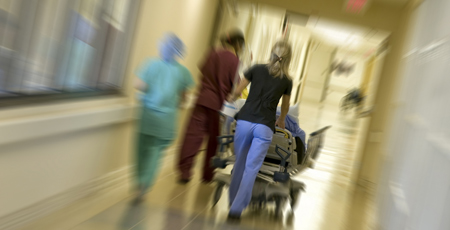 The Emergency Department, with its complex and acute-care focus, is a reflection of complex medical and surgical services provided at the MUHC. The ED's attention also extends to trauma care and provides dedicated, integrated care through its Trauma Team Leader (TTL) system.
Short Stay Units
The Short Stay Units (SSUs) offer in-patient care to those who may have acute emergency needs, but do not require complex care. This allows the more specialized services to focus on the areas of care that they target. At the RVH the SSU has on occasion admitted more complex patients awaiting admission to other services on compassionate grounds (not sure this is necessary).
Toxicology
The Clinical Toxicology service is the only such service in the province of Quebec. Only the MUHC possesses the expert resources and the multidisciplinary team organized in such fashion to manage complex poisoned patients (access to antidotes, ICU, hemodialysis, liver transplant, etc). It is a resource to other MUHC clinical services and to our integrated university health network (RUIS)* partners.
Disaster Medicine
The Disaster Medicine program, and its personnel, are first responders in the case of an unexpected surge of patients from an external disaster. It is their practice to implement decontamination, triage and stabilization of patients.
Pre-hospital Care
The Pre-hospital program mandate is to establish strong links with the Emergency Medical Services serving Montreal and Laval in order to continue to improve pre-hospital medical care. This benefits all the other MUHC departments by helping provide a system-wide organization of care for specific medical conditions (acute myocardial infarction, cardiac arrest, stroke, trauma patients, etc.).
Educational Mission
The ED has an educational mission: to provide teaching to the largest variety of MUHC healthcare workers. Its expertise in trauma, toxicology, and pre-hospital care allow for exceptional teaching opportunities and enables Emergency Medicine to play a leadership role in the communities that it serves.
* Réseau Universitaire Intégré de Santé (RUIS) – a division of the province of Quebec that provides care to its residents. In the case of the MUHC, it is part of the McGill RUIS, which reaches west and north from Quebec's southern border, as far as its Northern Arctic region.