The Montreal Children's Hospital has now moved to the
Glen site
.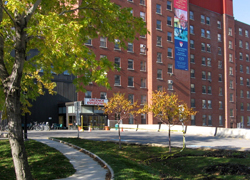 The hospital address:
Montreal Children's Hospital
1001 Decarie Boulevard
Montreal, Quebec H4A 3J1

Our doctors, nurses and staff consider themselves part of your extended family and our hospital as your home when your child is not well. We welcome, support and respect each child, teenager and family member who comes through our doors. Parents are our 'partners' in care because, by working together, we can provide your child and every child with the medical attention they deserve. It is our responsibility to make sure Quebec children have timely access to treatment in a caring environment. Our goal is not only to provide groundbreaking care but also to develop and recommend measures that will help prevent illness and injury before they happen. (www.thechildren.com)
Helpful Information
Getting a Hospital Card for your Child
The registration desk issues red plastic hospital cards for all new patients at the hospital. Before your first appointment, please stop by the Registration Desk near the 1st floor main entrance to register your child and obtain a card.
You will sign forms for admission, consent for treatment and tests, and release of information to referring doctors, hospital or clinics. The admitting staff will also verify that your correct address and telephone number are on file.
You will be asked if your child has had recent contact with any infectious disease and to provide his immunization record.
An identification bracelet will be placed on your child's arm or leg and will stay on until his release from hospital.
If your child is having same-day surgery he will go to the Day Surgery Centre and be admitted to the ward after the operation. All other children will be sent to a ward as soon as a bed is available.
Your child's Montreal Children's Hospital card, his Medicare card or details of your health insurance plan, his immunization record and any letter or information from your child's doctor. You should bring a toothbrush & toothpaste, brush & comb, slippers, pyjamas or nightgown, disposable diapers and a favourite book or toy. Children may bring their own clothes to wear during the day. Please label any possessions with your child's name.
Your child may appreciate having toys, games or books while in the hospital. Here are a few suggestions: travel-size board games, small puzzles, colouring books & crayons, small stuffed toys, videos or books. He may also enjoy receiving cards from relatives or friends. These should be addressed to the ward where he is staying.
How to Prepare your Child for Admission
Explain that he will be sleeping at the hospital and that you will stay with him as much as possible.
Assure him that you will bring him home as soon as he is well enough and that the doctors, nurses and other hospital staff are there to help him get better. Ask the staff about plans for your child's care and share this information with your child in words that he will understand; encourage him to ask questions. If he asks "Will it hurt?" tell him it may, but the hurt will go away.
Explain that his bed will be higher than the one at home and may have side rails to keep him safe.
Tell him that his nurse will watch out for him and help him when he needs it. She will also explain to him what is happening.
Montreal Children's Hospital