Chantal Souligny, R.N., BSC.N., M. Mgt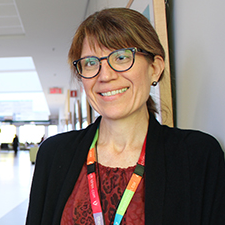 Director of Nursing
A French Canadian born in Montréal, Chantal Souligny brings 35 years of administrative, clinical and research experience to her current leadership role, along with a deep appreciation for patient-centred care, interdisciplinary collaboration and innovation. In every instance, she invests wholeheartedly of herself and supports her peers enthusiastically with a view to encouraging the highest standards of professional practice and the continuous improvement of patient outcomes.
Chantal earned a Bachelor of Science degree in Nursing from the Université de Montréal and began her career in 1983 as a staff nurse at the Royal Victoria Hospital. Most recently, she held the position of interim administrative director and associate director of nursing for the Montreal Children's Hospital (MCH) and Women's Health Mission of the McGill University Health Centre (MUHC). Prior to that, she assumed increasing managerial responsibilities, notably at the Montreal Chest Institute (MCI) where she further developed her hands-on expertise and knowledge through initiatives in respiratory care and infection control medicine. As a head nurse of a respiratory intensive care unit, she played a key role in the MCI's emergency preparedness, including for SARS and the H1N1 pandemic. Chantal also developed expertise in the nursing management of chronic critical illness. Her role in the implementation of a weaning programme for long-term mechanically ventilated patients has made the MCI the only centre in Quebec to offer this highly-specialized interdisciplinary programme.
Passionate about nursing, evidence-based management practice, as well as about compassionate and respectful patient care, Ms. Souligny has always gone the extra mile to work with and learn from colleagues, patients and partners in the community and health network. Over the years, she helped develop a regional model of care in smoking cessation and care maps in asthma and chronic obstructive pulmonary disease. For the latter, she received in 2010 the MUHC Valerie Shannon's Award of Excellence in Innovative Leadership. More recently for the MCH and Women's Health Mission of the MUHC, she led and supported her teams in the opening of an intermediary care unit, as well as improved the nursing workforce in neonatal care and in the operating room. As Director of Nursing, Chantal will continue to develop and maintain stability in the nursing staffing and workload practices given their direct relationship to a positive patient experience and outcomes. She will also support strategies to maximise professional development opportunities for staff, students and nursing researchers alike.
In addition to her nursing degree, Chantal holds a Master of Management degree from McGill University (International Masters for Health Leadership programme). An affiliate member of the Ingram School of Nursing, she is also a member of Quebec's Order of Nurses, a member of the Council of Services to Children and Adolescents of the MCH, a board member of the Canadian Association of Pediatric Health Centres.