Bio of Patricia Lefebvre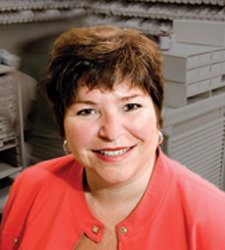 Director, Quality, Evaluation, Performance and Ethics
Patricia Lefebvre was the Pharmacist-in-chief from 2000 to 2010. Ms. Lefebvre has completed a Bachelor of Pharmacy and Master of Pharmacy Practice at the University of Montreal in 1984 and is a Fellow of the Canadian Society of Hospital Pharmacists. She is a Fellow of the EXTRA program of the Canadian Health Services Research Foundation with its commitment to practicing and championing evidence-informed decision-making in Canadian Health systems.
She is a member of the Board of the l'Institut national d'excellence en services sociaux et santé (INESSS) and of the Groupe Vigilance pour la sécurité des soins.
Patricia received the Prix Louis Hébert by the Ordre des pharmaciens du Québec, the highest honor in Quebec for the excellence of her practice and her significant contribution to the development of the profession. In 2010, she received the Award of Merit from the Montreal General Hospital in recognition of her outstanding contribution to the institution. The University of Montreal awarded her an honorary degree in recognition of her success and her professional influence.