Getting to the Hospital
Maps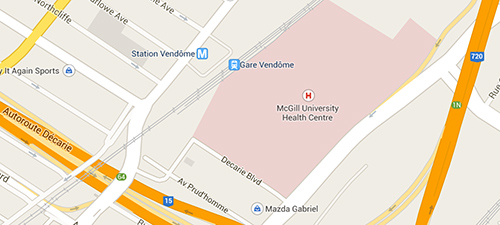 Our address
The main entrance of the MUHC Glen site is 1001 Décarie Boulevard, Montreal, QC H4A 3J1. Coloured windows lining the north facade of the Glen mark the main entrance to both the adult and pediatric hospitals. Cars or taxis may drive up to the main entrance and drop off passengers. The Cedars Cancer Centre has a separate entrance on the east side. See Finding your way at the Glen.
How to get here

STM's Paratransit service makes stops at three main entrances at the Glen site: the Royal Victoria Hospital, the Montreal Children's Hospital, and the Cedar Cancer Centre. Click here to find out more. (http://www.stm.info/en/para)

This new bus line drops patients right at the front door of the MUHC's Glen site, enabling persons with limited mobility to reach their destination more easily. Click for more information.
If you are arriving:
by metro: Located on the Orange Line, Vendôme station is situated next to the Glen site and is connected to the Glen site by a tunnel. Please note, Vendôme station is not universally accessible. Persons of limited mobility should take bus 77 from Lionel-Groulx station or Transport Adapté. By winter 2020, Vendôme station will feature elevators and a new tunnel proving a direct link to the hospital, without requiring you to go outside to reach it. For more info: stm.info/vendôme
by bus: The 77 leaves from Lionel-Groulx and drops patients directly at the front doors of the Glen site and is accessible for individuals with limited mobility. There are six local buses that stop at Vendôme station (37, 90, 102, 104, 105, 124) and five that make frequent stops near the Glen site (17, 78, 63, 371, 420). Transport Adapté also offers three stops at Glen main entrances (Montreal Children's Hospital, Royal Victoria Hospital and Cedars Cancer Centre.
by commuter trains: Vendôme station also connects to three commuter train lines: Saint-Jérôme, Candiac and Vaudreuil/Hudson.
by car: The hospital's public entrance on Décarie Boulevard. is easily accessed from highways 15, 20 and 720. The public parking lot is located underneath the main plaza.
by bike: Dedicated bike lanes surround the site and connect to the City of Montreal lanes situated on Décarie and De Maisonneuve Boulevards. The Glen has numerous bike racks.
by foot: Pedestrians can use entrances on Décarie Boulevard. and Glen Rd., as well as an extended underground tunnel from Vendôme station