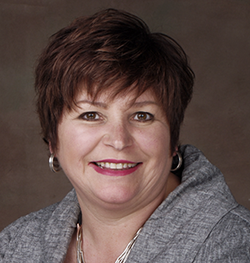 Associate Director General Support, Administration, and Performance
A pharmacist by profession and an experienced healthcare executive, her professional recognition extends across the entire health and social services network.
Patricia's career is tightly linked to the history of the MUHC. In 2001, as Pharmacist-in-chief, she was a cornerstone in the successful merge and integration of the five pharmacy departments of the founding MUHC hospitals. Between 2010 and 2019, she served as Director of Quality, Evaluation, Performance and Ethics (DQEPE), building the department into a fully integrated and multidisciplinary professional service dedicated to supporting the organization's clinical and administrative teams, as well as continuously improving the patient experience. She holds a key role in the development of the MUHC's strategic plan, fostering a culture where performance blends with professional excellence.
Her sphere of activity often extends beyond the MUHC to the entire health and social services network. Over the past 15 years, her involvement with the Groupe Vigilance pour la sécurité des soins du MSSS, the Board of Directors of the Canadian Patient Safety Institute and the Board of Directors of the Institut national d'excellence en santé et services sociaux (INESSS) led her to contribute to legislative changes in patient safety, to the development of new policies, and to new models of healthcare intervention.
Patricia continuously seeks to advance her profession as a pharmacist. Between 1998 and 2001, she was Chair of the Board of Directors of the Association des pharmaciens d'établissement du Québec. She is a fellow of the Ordre des pharmaciens du Québec, the Canadian Society of Hospital Pharmacists, and of the Canadian Foundation for Health Services Improvement's EXTRA program. 
She is a recipient of the Ordre des pharmaciens du Québec prestigious Prix Louis-Hébert for excellence in practice and for her significant contributions to the enhancement of her profession, awarded to her in 2007. In 2008, the Association des diplômés de l'Université de Montréal awarded her an honorary diploma in recognition of her professional influence.  In 2010, she received the Award of Merit from the Montreal General Hospital.